FOR IMMEDIATE RELEASE:
Thursday, June 3, 2010
Peace Corps Celebrates Volunteers Returning to Sierra Leone
39 Americans will serve in local communities as teachers
WASHINGTON, D.C., June 3, 2010—The first new group of Peace Corps volunteers to serve in Sierra Leone since 1994 met at a send-off celebration at Peace Corps Headquarters yesterday. Peace Corps staff, Republic of Sierra Leone Embassy officials and Friends of Sierra Leone (FoSL) welcomed the volunteers at the event.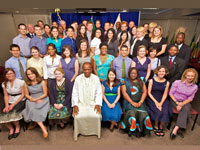 I am honored to celebrate the volunteers returning to Sierra Leone, said Peace Corps Chief of Staff Stacy Rhodes (Bolivia, 1968-1970) at the event. It is with their enthusiasm, commitment and compassion that the Peace Corps continues to carry the torch of President Kennedys dream and responds to President Obamas call to service.
The volunteers will focus on secondary education in public schools and work together with communities on grassroots initiatives and community development throughout the country. Before being formally sworn-in as Peace Corps volunteers, this group will train together in Sierra Leone for 10 weeks starting later this week. During this period, the volunteers will live with host families, receive intensive classroom training, and become familiar with the countrys cultural traditions and local languages.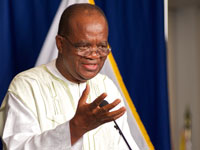 Chief of Staff Rhodes was joined at the event by the Deputy Chief of Mission, Embassy of the Republic of Sierra Leone, Ibrahim S. Conteh. The first group of Peace Corps volunteers arrived in Sierra Leone in 1962 and Sierra Leoneans of that generation continue to this day to recall at every given opportunity the names of the Peace Corps volunteers who have made a difference in their lives. I am proud to state that I am a product of that era of the first set of volunteers who also made a difference in my own life. said Conteh. The Deputy Chief of Mission continued with a message to the new volunteers, You are going to a grateful nation with cherished memories of the good work of your predecessors.
The volunteers met with FoSL members who attended the event to wish the new volunteers well. FoSL President Peggy Murrah (Sierra Leone, 1978 1980) and member Ambassador Thomas Hull (Sierra Leone, 1968-70) addressed the volunteers: You will be rebuilding a special relationship between the people of the United States and Sierra Leone, said Hull, the former U.S. Ambassador to Sierra Leone. We who preceded you wish you every success and know that you will acquire remarkable self-reliance and deeper insights into the world from your service. FoSL was founded by returned Peace Corps volunteers committed to contributing to the development of the country they served.
Peace Corps/Sierra Leone was first established in 1962 when 37 Americans volunteered to serve as secondary school teachers. Between 1962 and 1994, more than 3,400 Americans served as Peace Corps volunteers in Sierra Leone. United States and Sierra Leone government officials to reestablished a Peace Corps/Sierra Leone program with the signing of an agreement on November 2, 2009.
As Peace Corps approaches its 50th anniversary, its service legacy continues to promote peace and friendship around the world with 7,671 volunteers serving in 77 host countries. Historically, nearly 200,000 Americans have served with the Peace Corps to promote a better understanding between Americans and the people of 139 host countries. Peace Corps volunteers must be U.S. citizens and at least 18 years of age. Peace Corps service is a 27-month commitment.
# # #
---