FOR IMMEDIATE RELEASE:
Tuesday, May 4, 2010
Peace Corps Celebrates Teacher Appreciation Day
WASHINGTON, D.C., May 4, 2010 On Teacher Appreciation Day, Peace Corps is proud to honor volunteers and returned Peace Corps volunteers working to educate and improve the lives of those in the communities they serve through teaching both at home and abroad.
From their work with students and educators abroad, to their dedication in U.S. classrooms when they return, Peace Corps values our dedicated volunteers service in the field of education, said Peace Corps Director Aaron S. Williams. Having worked as a teachers trainer in the Dominican Republic during my time serving as a Peace Corps volunteer, I know first-hand the sustainable difference volunteers can make to educate youth and help enable host country teachers to further their skills in the classroom.
Thirty-five percent of Peace Corps volunteers have primary assignments in education and many other volunteers work on secondary projects that involve youth and community development. Peace Corps volunteers introduce innovative teaching methodologies, encourage critical thinking, and integrate content like health education, environmental awareness, and teaching English as a foreign language (TEFL) into their curricula. Volunteers also seek to build the capacity of host nation education systems by serving as teacher trainers at the local level, in teacher-training colleges and universities, and in curriculum and materials development.
In addition to the education work volunteers are doing abroad, both currently serving and returned Peace Corps volunteers connect with teachers in the United States through Peace Corps Paul D. Coverdell World Wise Schools program. The program helps U.S. schoolchildren better understand other cultures and international events through free and readily accessible publications; stories and lesson plans; multimedia resources; and a service learning module. To learn more about the World Wise Schools program
click here
.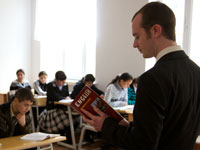 Peace Corps/Azerbaijan volunteer Evan Cook, a secondary school TEFL teacher from Staunton, Va., teaches English classes at the local school, tutors outside of the classroom, and hosts an afterschool English club.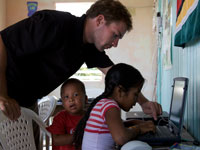 Timothy Morin, a community health volunteer in Guyana, teaches literacy, computer, and science classes to primary schoolchildren. The Atlanta, Ga., resident also works with the local teachers to identify alternative teaching techniques.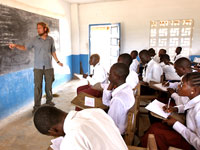 In Liberia, Peace Corps Response volunteer Russell Lyon of Burnsville, N.C., teaches chemistry and English in a local secondary school and encourages students to participate in extracurricular sports activities and help in the local library.
To see a Flickr set of Peace Corps volunteers in the field
click here
.
As Peace Corps approaches its 50th anniversary, its service legacy continues to promote peace and friendship around the world with 7,671 volunteers serving in 76 host countries. Historically, nearly 200,000 Americans have served with the Peace Corps to promote a better understanding between Americans and the people of 139 host countries. Peace Corps Volunteers must be U.S. citizens and at least 18 years of age. Peace Corps service is a 27-month commitment.
# # #
# # #
---