FOR IMMEDIATE RELEASE:
Wednesday, November 7, 2018
Peace Corps celebrates Native American Heritage Month this November
WASHINGTON - In honor of Native American Heritage Month, celebrated every November, the Peace Corps recognizes the rich history and contributions of American Indians and Alaska Natives. Many volunteers with native heritage, past and present, have committed themselves to national service through their work in the Peace Corps. 
Madiera Dennison of Virginia Beach, Virginia, currently serves as an education volunteer in rural Malawi, Africa. Madiera's Native American ancestry, specifically her Ramapo Lenape roots, inform her decision to continue learning the local language in her area. "Every day, I make an effort and a promise to learn the local dialects in my community, to understand where I live, and discover why the spaces I visit are given their names," she says. "I know this little promise shows my respect for my students and their heritage. In return, I teach them about diversity in the United States, the tribes that make up my homeland, and my promise to learn my native language and share it with them one day."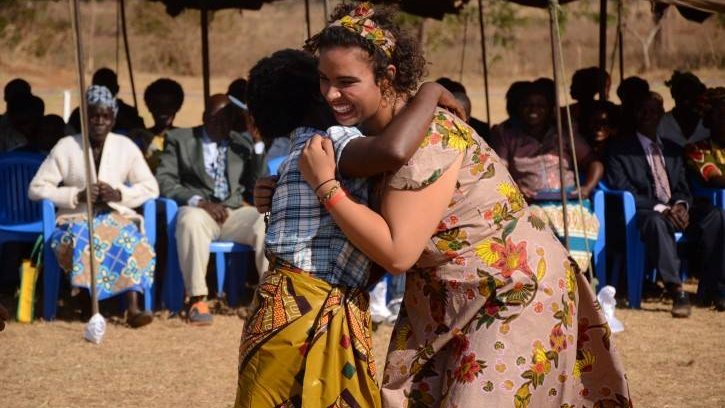 After finishing her volunteer service, Madiera plans to continue supporting the Peace Corps' goal of building cross-cultural bridges. She has plans to learn more of the mother tongue of her Ramapo Lenape ancestors, an endangered Algonquin dialect called Musee. The Virginia Tech alum actively shares her own culture with her Malawian community, and is excited to share Malawian culture with her family back in the United States.    
She says, "Although I call Malawi my home for now, I look forward to the day I get to visit my home in Ramapo territory, share the various languages and cultures I've learned about [in Malawi], and celebrate the language that shapes my history and identity as an American."
Read more of Madiera's story here. 
The Peace Corps is committed to sharing the diversity of the United States with communities across the globe. The agency has 69 volunteers with Native American or Native Alaskan heritage currently serving in communities around the world. 
# # #
About the Peace Corps: The Peace Corps sends Americans with a passion for service abroad on behalf of the United States to work with communities and create lasting change. Volunteers develop sustainable solutions to address challenges in education, health, community economic development, agriculture, environment and youth development. Through their Peace Corps experience, volunteers gain a unique cultural understanding and a life-long commitment to service that positions them to succeed in today's global economy. Since President John F. Kennedy established the Peace Corps in 1961, more than 230,000 Americans of all ages have served in 141 countries worldwide.
For more information, visit peacecorps.gov and follow us on Facebook and Twitter.
---