FOR IMMEDIATE RELEASE:
Friday, November 28, 2014
Peace Corps Celebrates Native American Heritage Month at Events Across the Country
WASHINGTON, D.C., Nov. 28, 2014 – Throughout the month of November, Peace Corps offices across the country have held recruitment events in honor of Native American Heritage Month to field a volunteer force that reflects the rich diversity of the American people. The events follow an announcement by the Peace Corps this summer that the agency is stepping up recruitment and outreach in under-represented communities and casting a wider net than ever before to ensure every American knows about the Peace Corps.
On Nov. 13 in Oregon, a Peace Corps recruiter at Portland State University spoke with members of United Indian Students in Higher Education about Peace Corps service opportunities. On Nov. 14 in Alaska, Peace Corps' West Coast Regional Recruitment Office hosted a Google+ Hangout with the Native Student Council at the University of Alaska Anchorage. And in Chicago on Nov. 20, Peace Corps' Midwest Regional Recruitment Office held a Native American Heritage Month information session.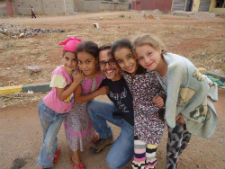 "As a teacher, I often encounter challenging questions in my classes about my Native American heritage," said Peace Corps volunteer Gloria Allen, a native of Texas City, Texas, who has been living in China since 2013. "I use these questions as teachable moments that allow me to discuss cultural diversity in American society as well as Native American communities. Then I prompt students to share their own heritage and life-changing experiences to help increase our understanding of how this world works."
As part of its recruitment reforms, the Peace Corps has hired ten staff members dedicated to diversity recruitment and is forming partnerships with diverse organizations, including Tribal Colleges and Universities, Hispanic-Serving Institutions, and Historically Black Colleges and Universities. Diversity focused recruitment events give prospective Peace Corps applicants the opportunity to learn about the benefits of Peace Corps service and the value of global cross-cultural exchange.
"I'm proud of my Native American heritage," said Peace Corps volunteer Jake Hamilton, a native of Pekin, Illinois, who has been living in Morocco since 2013. "All my life I've had a deep-seeded interest in American culture, including that of Native Americans, which has really lent to my conduct and work here in Morocco. When I return home, I hope to strengthen my community and my country with the skills I've acquired through Peace Corps."
Peace Corps' Office of Diversity and National Outreach aims to recruit a diverse pool of volunteers and build an inclusive culture that welcomes applicants and volunteers from all backgrounds. One-fourth of Peace Corps volunteers currently self-report as ethnic and racial minorities. Find the Peace Corps recruitment office near you by visiting the agency's website and get information on upcoming recruitment events on the Peace Corps events page.
About the Peace Corps: The Peace Corps sends the best and brightest Americans abroad on behalf of the United States to tackle the most pressing needs of people around the world. Volunteers work at the grassroots level to develop sustainable solutions that address challenges in education, health, economic development, agriculture, environment and youth development. Through their service, volunteers gain a unique cultural understanding and a life-long commitment to service that positions them to succeed in today's global economy. Since President John F. Kennedy established the Peace Corps in 1961, nearly 220,000 Americans of all ages have served in 140 countries worldwide. For more information, visit www.peacecorps.gov and follow us on Facebook and Twitter.
# # #
---