FOR IMMEDIATE RELEASE:
Thursday, August 12, 2010
Peace Corps Celebrates International Youth Day
WASHINGTON, D.C., August 12, 2010 The Peace Corps is proud to celebrate International Youth Day and recognize the work Peace Corps volunteers are doing to educate and engage youth in 77 host countries. In keeping with this years theme of ensuring Dialogue and Mutual Understanding, they are strengthening the next generation of leaders in communities worldwide.
Over 40 percent of Peace Corps volunteers are currently working in the youth development and education sectors as their primary projects, with thousands more undertaking secondary projects that impact youth. Such volunteers introduce innovative teaching methodologies, encourage critical thinking in the classroom, and work with young people, their families, and their communities.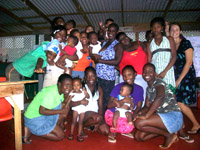 In many of the countries Peace Corps volunteers serve, large proportions of the population are under the age of 25. These youth often face the challenges of poverty, family disintegration, and a lack of education that can lead to marginalized lives and limited futures. The Peace Corps is working to fill in the gaps for such youth by helping communities develop programs to support young people. Volunteers train youth-development workers, help create income-generating activities, facilitate health and HIV/AIDS education, and teach life-skills and organizational-development at a local level.
The following are examples of Peace Corps work to empower youth worldwide:
Last week, the Peace Corps welcomed 115 young African leaders from 46 African nations to its headquarters in Washington, D.C. as part of President Barack Obamas Young African Leaders Forum. The presidential initiative was designed to help the young leaders exchange ideas and engage U.S. citizens and government officials concerning issues key to Africa\'s future. Each participant received a copy of Peace Corps V2 Volunteerism Action Guide, which provides ideas to facilitate grassroots service-learning activities in communities worldwide.


Peace Corps volunteers in over 60 posts worldwide are actively empowering young women by organizing Camp GLOW (Girls Leading Our World) programs that encourage self-confidence, challenge campers to think beyond traditional gender roles, and address the unique societal and health issues that young women face in their communities.


Next week, Peace Corps volunteers in Malawi will convene a 10-day camp (Camp Sky) for more than 68 students, eight junior counselors and 10 teachers. Camp Sky will prepare Malawian students for the national exam and offer them the opportunity to attend educational seminars. They will receive career counseling by means of field trips, guest lecturers, and practical workshops. The students will also participate in extracurricular classes such as sustainable agriculture, business, solar engineering, nutrition and cooking, critical thinking games, HIV/AIDS education, and sewing. Students and teachers will use the knowledge and skills acquired at Camp Sky in their own schools and communities, sharing information across the nation.

In 1999, the United Nations General Assembly declared August 12 International Youth Day to promote better awareness of the World Programme of Action for Youth. Since then, its yearly observance has provided governments, schools and communities opportunities to draw attention to youth issues worldwide.
As Peace Corps approaches its 50th anniversary, its service legacy continues to promote peace and friendship around the world with 7,671 volunteers serving in 77 host countries. Historically, nearly 200,000 Americans have served with the Peace Corps to promote a better understanding between Americans and the people of 139 host countries. Peace Corps volunteers must be U.S. citizens and at least 18 years of age. Peace Corps service is a 27-month commitment.
# # #
# # #
---