FOR IMMEDIATE RELEASE:
Wednesday, November 19, 2014
Peace Corps Celebrates International Men's Day
WASHINGTON, D.C., Nov. 19, 2014 – To celebrate International Men's Day, commemorated annually on Nov. 19 in more than 60 countries worldwide, the Peace Corps recognizes volunteers who promote gender equality and positive gender relations in their communities abroad.
International Men's Day is a United Nations initiative that began in 1999 and focuses on highlighting positive male role models and their contributions to family and community development.
Below find an example of how Peace Corps volunteers are advancing gender equality in Burkina Faso through a summer camp for girls and boys.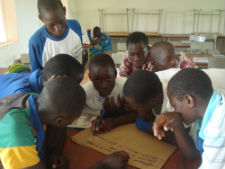 Inspired by the widespread success of Camp GLOW (Girls Leading Our World), Peace Corps volunteers in Burkina Faso have been organizing Camp G2LOW (Girls and Guys Leading Our World) to teach both girls and boys about gender equality. At the most recent Camp G2LOW, more than 60 secondary school students came together for two weeks from four different cities across Burkina Faso.
"Our goal through the camps is to teach male youth the value of working with women as equals," said recently returned Peace Corps volunteer Sara Goodman, who helped organize the past two G2LOW camps.
During the camps, students learn about healthy relationships and gender attitudes, and discuss their roles and responsibilities. The most recent camp included educational sessions on proper hygiene habits, healthy lifestyle practices, critical thinking and decision-making, ending domestic violence, and the importance of working together to accomplish goals. The camp culminated with educational skits, campfire activities, and a cultural night with dancing to American and Burkinabe music.
"It was incredible to see the effect of the American summer camp experience in Burkina Faso," said Goodman, a native of Huntington Woods, Michigan. "The participants learned a lot about the value of working together as equals."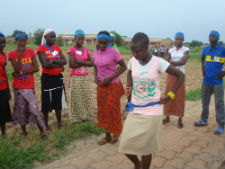 Each community nominated an equal number of boys and girls to attend the camp based on their school performance and character. Sessions were led by Peace Corps volunteers and local community members, who teamed up to encourage community engagement.
"The creators of the camp put forth a lot of effort to assure community participation and sustainability of the camp, which is critical to its success," Goodman said.
Volunteers and their local counterparts have generated funds for the camps with the help of the Peace Corps Partnership Program (PCPP). To receive funding through the PCPP, a community must make at least a 25 percent contribution to the total project cost and outline success indicators for each project, which helps to ensure community ownership and long-term sustainability. Participating communities have contributed additional funds to support Camp G2LOW, covering students' transportation, housing and educational materials.

About Peace Corps/Burkina Faso: There are currently 110 volunteers in Burkina Faso working in the areas of education, health and community economic development. During their service in Burkina Faso, volunteers learn to speak the local languages, including: Bissa, French, Fulfuldé, Gulmancema, Gurunssi, Hidi, Itanikom, Jula, Kanuri, Kapsiki, Karunfe, Katsena, Lobiri, Lyele, Mandara, Mooré, Mungaka, Siamou and Yemba. More than 1,880 Peace Corps volunteers have served in Burkina Faso since the program was established in 1967.
About the Peace Corps: As the preeminent international service organization of the United States, the Peace Corps sends Americans abroad to tackle the most pressing needs of people around the world. Peace Corps volunteers work at the grassroots level with local governments, schools, communities, small businesses and entrepreneurs to develop sustainable solutions that address challenges in education, health, economic development, agriculture, environment and youth development. When they return home, volunteers bring their knowledge and experiences – and a global outlook – back to the United States that enriches the lives of those around them. President John F. Kennedy established the Peace Corps in 1961 to foster a better understanding among Americans and people of other countries. Since then, more than 215,000 Americans of all ages have served in 139 countries worldwide. Visit www.peacecorps.gov to learn more.
# # #
---