FOR IMMEDIATE RELEASE:
Thursday, December 5, 2013
Peace Corps Celebrates Global Volunteerism on International Volunteer Day
WASHINGTON, D.C., Dec. 5, 2013 – On International Volunteer Day, Peace Corps recognizes and applauds volunteers' commitment to making a difference around the world. In addition to dedicating themselves to service, Peace Corps volunteers also promote the value of service in their host countries. By volunteering within their own communities, local community members help improve the world around them not only for themselves but also for their family and friends.
The more than 215,000 Americans who have volunteered with the Peace Corps know that their service changed lives – both their own and the lives of people in their host communities. Volunteers spend 27 months living and working alongside the people they serve, learning about leadership, ingenuity, self-reliance and relationship building. After service, Peace Corps volunteers return home as global citizens with new perspectives and skills that give them a competitive edge in today's global economy.
Below find three stories of Peace Corps volunteers who are increasing awareness of the importance of giving back and encouraging the people in their communities to volunteer.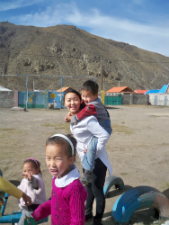 Mongolia
Peace Corps volunteers Daniel Cherry of Science Hill, Ky., and Katie Bowen-Williams of Annapolis, Md., are working together in Mongolia to promote a partnership between two local non-governmental organizations focused on volunteerism and mentorship among Mongolian youth. Cherry has teamed up with an organization that prepares young Mongolian students to study abroad, and Bowen-Williams is collaborating with a community youth center. By bringing their individual projects together, they implemented a volunteering program that gives young adults the opportunity to mentor children and lead activities at the youth center.
"Mentors build leadership skills, confidence, and gain volunteer experience," Bowen-Williams said, "The young students are able to ask questions of peers and build positive relationships."
Paraguay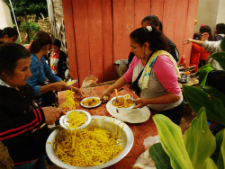 In Paraguay, Peace Corps volunteer Casey Cutler of Westwood, Mass., helped a local community center secure funding to remodel its soup kitchen after water damage, rodents and poor ventilation forced it to close. The kitchen served approximately 400 hungry children and was staffed by a group of 12 Paraguayan women who volunteered their time to prepare and serve lunch. Cutler received a USAID-Peace Corps Small Project Assistance (SPA) grant for the project, and community members held a bake sale to cover additional costs. A local non-governmental organization donated pots, pans, plates, cups and tables for the new kitchen.
"This small group of women are the driving force behind the community and are an inspiration to their neighbors, families, and the hundreds of children that are at the soup kitchen every day witnessing the kindness and selflessness that these women embody," Cutler said.
Burkina Faso
Peace Corps volunteer Eric Lacey of Yakima, Wash., challenged a group of 56 high school students in Burkina Faso to do 50 hours of community service by the end of the school year to learn firsthand the value of volunteering. By the end of the school year, 28 volunteers reached the goal, and the group totaled more than 2,765 hours of community service.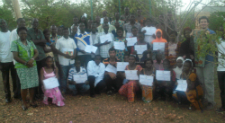 "We started with several motivated, impressive students and put them in charge of real development activities under the supervision of local experts," Lacey said. "For the first time, the students were tutoring, leading clubs with younger children, learning about HIV and meeting with HIV patients, doing radio shows, translating documents, planting trees, writing a school newspaper, organizing a career fair, teaching literacy to women's groups and more. Some students are even changing their career choice based on what they learned."
To learn more about volunteering with the Peace Corps, visit http://www.peacecorps.gov/volunteer/.
About the Peace Corps: As the preeminent international service organization of the United States, the Peace Corps sends Americans abroad to tackle the most pressing needs of people around the world. Peace Corps volunteers work at the grassroots level with local governments, schools, communities, small businesses and entrepreneurs to develop sustainable solutions that address challenges in education, health, economic development, agriculture, environment and youth development. When they return home, volunteers bring their knowledge and experiences – and a global outlook – back to the United States that enriches the lives of those around them. President John F. Kennedy established the Peace Corps in 1961 to foster a better understanding among Americans and people of other countries. Since then, more than 215,000 Americans of all ages have served in 139 countries worldwide. Visit www.peacecorps.gov to learn more.
# # #
---