FOR IMMEDIATE RELEASE:
Wednesday, April 22, 2015
Peace Corps Celebrates Earth Day and Volunteers Working to Preserve Our World
WASHINGTON, D.C., April 22, 2015 – Today, on the 45th annual Earth Day, Peace Corps recognizes volunteers around the world who help to protect our planet's natural resources and encourage their communities to move toward a more sustainable future. About 17 percent of Peace Corps volunteers focus on environmental and agricultural projects, while numerous others incorporate environmental conservation into classroom activities and secondary projects.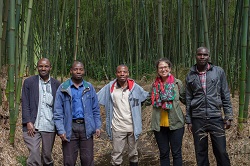 Volunteers find solutions to their communities' environmental challenges by developing environmental leadership camps, teaching recycling practices, and planting renewable gardens, among various other projects. Peace Corps volunteers champion environmental change and empower their communities to make a difference.
First observed in 1970, Earth Day is now celebrated in more than 190 countries. Below find an example of how a Uganda Peace Corps volunteer is working with her community and fellow volunteers to improve the environment.
Peace Corps volunteer Rachel Belkin of Northfield, New Jersey, is working with fellow Peace Corps volunteers across Uganda to develop a Conservation Think Tank to engage local leaders and youth in environmental education and conservation. The Think Tank brings together Peace Corps Uganda volunteers working in agriculture, health, education and local nongovernmental organizations to establish creative programming that will provide community members with the tools they need to conserve Uganda's precious natural resources.
"Uganda is a country rich in biodiversity and renewable resources, but in the rural communities, there are limited resources available to facilitate conservation education and practices," said Belkin, a graduate of the University of Maryland who has been living in Uganda since November 2013. "We all came together because volunteers across sectors and throughout Uganda wanted to work on environmental and conservation projects in their communities but didn't have the means."
Since the Think Tank's inception in January, Belkin and her counterparts have worked to improve local beekeeping practices, started an environmental handbook for the community, and organized an annual conservation camp. The Conservation Think Tank was driven by the desire of Peace Corps volunteers and local organizations to share knowledge and resources with other conservation groups in Uganda.
Leading up to next year's Earth Day, the Think Tank plans to host an 'Earth awareness month' encouraging all Uganda Peace Corps volunteers to partner with their counterparts on environmental activities in their communities.
"The key is coming up with solutions that focus on Uganda's unique resources and encourage local leaders and youth to partner with organizations to continue conservation efforts," Belkin said.
About Peace Corps/Uganda: There are 154 volunteers in Uganda working with their communities on projects in English education, agriculture and health, including volunteers in the Global Health Service Partnership program. During their service in Uganda, volunteers learn to speak local languages, including: Ateso, Dhopadhola, Luganda, Lugwere, Lumasaaba, Lusoga, Runyakore, Runyole, Runyoro-Rutoro and Uhopadhola. More than 1,405 Peace Corps volunteers have served in Uganda since the program was established in 1964.
About the Peace Corps: The Peace Corps sends the best and brightest Americans abroad on behalf of the United States to tackle the most pressing needs of people around the world. Volunteers work at the grassroots level to develop sustainable solutions that address challenges in education, health, economic development, agriculture, environment and youth development. Through their service, volunteers gain a unique cultural understanding and a life-long commitment to service that positions them to succeed in today's global economy. Since President John F. Kennedy established the Peace Corps in 1961, nearly 220,000 Americans of all ages have served in 140 countries worldwide. For more information, visit www.peacecorps.gov and follow us on Facebook and Twitter.
# # #
---