FOR IMMEDIATE RELEASE:
Monday, February 29, 2016
Peace Corps Celebrates Black History Month
WASHINGTON, D.C., February 29, 2016 – In honor of Black History Month, the Peace Corps recognizes the great contributions Black volunteers have made to the agency's mission and promoting inter-cultural understanding around the world. The Peace Corps aims to recruit the best and brightest volunteers to serve abroad that reflect the rich diversity of the American people. Below find stories from two first-generation Black Americans who are currently serving as Peace Corps volunteers.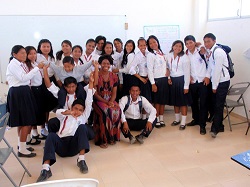 As a first-generation Haitian-American, Peace Corps volunteer Nakechia Gay says she was always a global thinker, which inspired her to apply to the Peace Corps. During her service in Ecuador, Gay realized her community members were largely unaware of the diversity of Black Americans but eager to talk to her about Black history in America.
"For me, Black History Month was every month," Gay said. "My host community only knew what they saw on television, so I always took time to speak about Black history. I would talk about slavery, racism, colorism, music, Black entertainers, scholars, President Barack Obama, and so many other aspects of Black history and culture."
Dominique Gebru, a first-generation Ethiopian-American currently serving in Jamaica, also encourages dialogue about the diversity and history of Black Americans within her community members. Gebru teaches Black History Month-themed lessons to her students that incorporate music, reading and discussions to engage students on the achievements of Black people, both past and present.
"When I arrived in my community, it became clear that lots of the children had an incomplete understanding of America's diversity," Gebru said. "Things really came full circle when my father came to visit my school in Jamaica. My students got to ask him questions about Ethiopia and hear his accent. It hopefully broadened their understanding of what makes an American."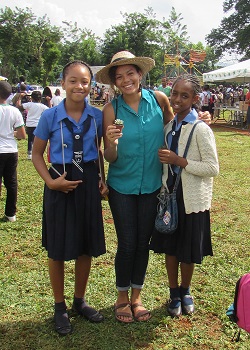 Both Gay and Gebru's parents are supportive of their Peace Corps service. Gebru's father encouraged her decision to apply to the Peace Corps since he had a positive experience being taught by Peace Corps volunteers while growing up in Ethiopia.
"Over time, I've come to understand the dynamics of race in Jamaica more fully, and it's made me much more patient," Gebru said. "When I take the opportunity to talk about my Ethiopian heritage, I validate my own identity and expand the definition of how others view me and Americans as a whole."
Peace Corps' Office of Diversity Recruitment and National Outreach works to recruit a diverse pool of volunteers and build an inclusive culture that welcomes applicants and volunteers from all backgrounds. Throughout February, the agency hosted 13 Black History Month events across the country for interested applicants to learn about the Peace Corps experience and talk with returned volunteers. Find the Peace Corps recruiter nearest you by visiting the Find a Recruiter page and get information on upcoming events on the Peace Corps events page.
About the Peace Corps: The Peace Corps sends the best and brightest Americans abroad on behalf of the United States to tackle the most pressing needs of people around the world. Volunteers work at the grassroots level to develop sustainable solutions that address challenges in education, health, economic development, agriculture, environment and youth development. Through their service, volunteers gain a unique cultural understanding and a life-long commitment to service that positions them to succeed in today's global economy. Since President John F. Kennedy established the Peace Corps in 1961, more than 220,000 Americans of all ages have served in 140 countries worldwide. For more information, visit www.peacecorps.gov and follow us on Facebook and Twitter.
# # #
---