FOR IMMEDIATE RELEASE:
Thursday, May 28, 2015
Peace Corps Celebrates Asian American and Pacific Islander Heritage Month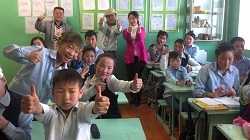 WASHINGTON, D.C., May 28, 2015 – Throughout the month of May, the Peace Corps has been highlighting Asian American and Pacific Islander (AAPI) Heritage Month to encourage Americans of all backgrounds to consider the benefits of Peace Corps service. Over the last year since Peace Corps' announcement of historic recruitment reforms, the agency has expanded its reach in under-represented communities to field a volunteer force that reflects the rich diversity of the American people. One-fourth of current Peace Corps volunteers self-report as ethnic and racial minorities.
On May 20, Peace Corps' Mid Atlantic Regional Office hosted a virtual roundtable featuring four AAPI returned Peace Corps volunteers. Americans from around the country tuned in to hear the panelists share their unique Peace Corps experiences.
On May 26, Peace Corps headquarters in Washington, D.C. released a new video featuring three returned Peace Corps volunteers who explain why they applied to the Peace Corps and how their respective cultural identities influenced their service.
"I'm proud to be in South Africa teaching people that America is not just all white, but there is also a diversity that I think a lot of South Africans can appreciate themselves, being here in the Rainbow Nation," returned Peace Corps volunteer Alex Tran, who served in South Africa from 2009 to 2011 and again as a Peace Corps Response volunteer in Malawi from 2011 to 2012, said in the video.
"Before I was born, my mom vowed that if her family were to safely make it out of Vietnam during the war, she would do charity work for the rest of her life," said volunteer Vinh Van Le, who has been living in Mongolia since 2012. "Growing up in that environment made it easy for me to choose the Peace Corps after college."
The Peace Corps has eight regional recruitment offices across the country that work closely with prospective volunteers, as well as an Office of Diversity and National Outreach that aims to recruit a diverse pool of volunteers and build an inclusive culture. Find the recruitment office near you by visiting the Peace Corps website here.
About the Peace Corps: The Peace Corps sends the best and brightest Americans abroad on behalf of the United States to tackle the most pressing needs of people around the world. Volunteers work at the grassroots level to develop sustainable solutions that address challenges in education, health, economic development, agriculture, environment and youth development. Through their service, volunteers gain a unique cultural understanding and a life-long commitment to service that positions them to succeed in today's global economy. Since President John F. Kennedy established the Peace Corps in 1961, nearly 220,000 Americans of all ages have served in 140 countries worldwide. For more information, visit www.peacecorps.gov and follow us on Facebook and Twitter.
# # #
---