FOR IMMEDIATE RELEASE:
Wednesday, May 21, 2008
Peace Corps Awarded Advancing Government Accountability Award
Agency Receives Certificate of Excellence in Accountability Reporting
WASHINGTON, D.C. MAY 21, 2008 The Association of Government Accountants (AGA) has awarded the Peace Corps the Certificate of Excellence in Accountability (CEAR) Reporting for the FY2007 for its high standards in fiscal accountability and transparency.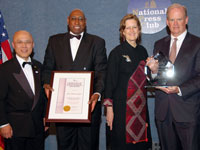 "I am so proud of our accomplishments in the area of financial accountability at the Peace Corps, said Director Tschetter upon learning of the agencys award. For the first time in its history, the Peace Corps received an unqualified opinion on the audit of our finances, which is a remarkable endeavor for any organization. Having served for almost 40 years in the financial services industry, I can say that the Peace Corps has a world-class finance operation, and Americans can know exactly how their hard-earned tax dollars are being spent at the agency.
The CEAR is awarded to federal government entities whose Performance and Accountability Reports (PARs) and the alternative PARs (known as Pilot Program Reports) achieve the highest standards of clarity in communicating financial information and demonstrating accountability.
The award will be presented at a black tie dinner on May 21, 2008, at the National Press Club in Washington, D.C. Deputy Director for Management at the U.S. Office of Management and Budget Clay Johnson will deliver remarks. The event will also recognize individuals responsible for preparing the annual report.
We are proud to award Peace Corps the recognition its hard work deserves, said AGA Executive Director Relmond P. Van Daniker. With sustained leadership and commitment, the Peace Corps will continue this series of awards and serve as a model for excellent reporting by other agencies.
In 2005, former Peace Corps Chief Financial Officer George Schutter had a goal to achieve an unqualified opinion by the end of 2009. But, with Peace Corps complicated budget, hundreds of thousands of annual global transactions with a variety of currencies, banking systems and regulations, this goal was lofty. In working in collaboration with Thomas Bellamy, currently Peace Corps Acting Chief Financial Officer, and the members of the Chief Financial Officers staff worked to strengthen internal controls, establish key performance metrics, re-engineer processes, and obtain financial system certification and accreditation.
In November 2007, Peace Corps Director Ronald A. Tschetter announced that for the first time since new legislation was enacted, external auditors rendered an unqualified opinion on the Peace Corps financial statements for the fiscal year, ending September 30, 2007. The complex and detailed audit found no material weaknesses, and marked a significant achievement for the agency.
Peace Corps current reporting format has also been praised by the AGA, which cited the agencys FY2007 report as being concise and easy to read, with an easy to understand strategic goal.
Since 1950, the Association of Government Accountants has beenand remains todaythe educational organization dedicated to the enhancement of public financial management. AGA serves the professional interests of financial managers, from local, state and federal governments, as well as public accounting firms, responsible for effectively using billions of dollars and other monetary resources every day. For more than 50 years, AGA has been addressing the issues and challenges facing government financial managers.
The Peace Corps is celebrating a 47-year legacy of service at home and abroad. Currently there are more than 8,000 Volunteers abroad, a 37-year high for Volunteers in the field. Since 1961, more than 190,000 Volunteers have helped promote a better understanding between Americans and the people of the 139 countries where Volunteers have served. Peace Corps Volunteers must be U.S. citizens and at least 18 years of age. Peace Corps service is a 27-month commitment.
# # #
# # #
---