FOR IMMEDIATE RELEASE:
Tuesday, April 21, 2015
Peace Corps Announces 2015 Top Volunteer-Producing Historically Black Colleges and Universities
WASHINGTON, D.C., April 21, 2015 – Peace Corps Director Carrie Hessler-Radelet today announced Peace Corps' 2015 top volunteer-producing Historically Black Colleges and Universities (HBCUs) at an event at Peace Corps Headquarters alongside Howard University officials and Howard alumni who have served as Peace Corps volunteers.
For the fourth consecutive year, Howard University claimed the top spot among HBCUs with 13 undergraduate alumni currently serving as volunteers. And for the second year in a row, Howard is the first and only HBCU to appear on the agency's national list of top volunteer-producing colleges and universities, ranking No. 24 among medium-sized undergraduate schools.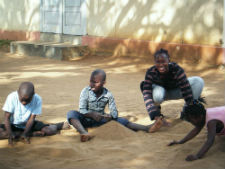 "Peace Corps service is an opportunity unlike any other – a chance to make a difference in some of the world's most vulnerable, hard-to-reach communities and a launching pad for a 21st-century career," Director Hessler-Radelet said. "Volunteers with diverse backgrounds bring unique intercultural experiences to the communities they serve and help promote a greater understanding of who we are as Americans."
Spelman College in Atlanta claimed the second-place spot among HBCUs for the second consecutive year with six alumni in service, and for the first time, two schools tied for third place. Morehouse College in Atlanta and Norfolk State University in Virginia both ranked third, each with four alumni currently serving abroad.
College graduates who volunteer with the Peace Corps make a lasting difference in the lives of others while receiving intensive intercultural, leadership, language and technical training that gives them a competitive edge in today's job market. They develop vital life skills and get hands-on program management experience that employers are looking for now more than ever. Peace Corps volunteers may also be eligible for various forms of student loan relief, including deferment, partial Perkins Loan cancellation and Public Service Loan Forgiveness.
"Howard's motto is engrained in truth and service, and I felt the spirit of service everywhere as an undergraduate student," said Jalina Porter, a graduate of Howard who served in Cambodia from 2009-11. "Howard students strive to make an impact of positive social change, and my time there was a natural stepping stone to my Peace Corps service."
Over the last year since Peace Corps' announcement of historic recruitment reforms, the agency has expanded its reach to attract the best and brightest the U.S. has to offer and field a volunteer force that reflects the rich diversity of the American people. In addition to hiring dedicated diversity recruiters and hosting diversity focused recruitment events, the Peace Corps is partnering with diverse institutions like Howard so Americans of all backgrounds know about service opportunities with the Peace Corps.
Peace Corps' 2015 top volunteer-producing Historically Black Colleges and Universities are:
1. Howard University (13 currently serving volunteers)
2. Spelman College (8 currently serving volunteers)
3. Morehouse College (4 currently serving volunteers)
3. Norfolk State University (4 currently serving volunteers)
*Rankings are calculated based on fiscal year 2014 data as of September 30, 2014, as self-reported by Peace Corps volunteers.
The Peace Corps has eight regional recruitment offices across the country that work closely with prospective volunteers, as well as an Office of Diversity and National Outreach that aims to recruit a diverse pool of volunteers and build an inclusive culture. Find the recruitment office near you by visiting the Peace Corps website here.
About the Peace Corps: The Peace Corps sends the best and brightest Americans abroad on behalf of the United States to tackle the most pressing needs of people around the world. Volunteers work at the grassroots level to develop sustainable solutions that address challenges in education, health, economic development, agriculture, environment and youth development. Through their service, volunteers gain a unique cultural understanding and a life-long commitment to service that positions them to succeed in today's global economy. Since President John F. Kennedy established the Peace Corps in 1961, nearly 220,000 Americans of all ages have served in 140 countries worldwide. For more information, visit www.peacecorps.gov and follow us on Facebook and Twitter.
# # #
---