FOR IMMEDIATE RELEASE:
Wednesday, May 7, 2014
Peace Corps Announces 2014 Top Master's International and Paul D. Coverdell Fellows Programs
Programs offer unique opportunity to combine graduate school and Peace Corps service
WASHINGTON, D.C., May 7, 2014 – The Peace Corps today announced the 2014 rankings of its top Master's International and Paul D. Coverdell Fellows graduate school programs for Peace Corps volunteers. For an impressive ninth consecutive year, the Michigan Technological University Master's International program claimed the top spot among programs at more than 80 colleges and universities nationwide with 32 students currently serving as Peace Corps volunteers overseas. Among Paul D. Coverdell Fellows programs spanning more than 30 states, the University of Denver ranked first for the third consecutive year with 69 students who served as Peace Corps volunteers.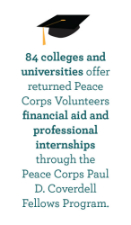 "Peace Corps' partnerships with colleges and universities create invaluable opportunities for students to apply what they learn in the classroom to real-life situations," Acting Director Carrie Hessler-Radelet said. "A graduate degree along with the life-changing experience of Peace Corps service uniquely positions Americans to succeed in today's global job market and strengthen our country's international ties and global competitiveness."
Both the Master's International and Paul D. Coverdell Fellows programs offer students the unique opportunity to integrate Peace Corps service with a graduate degree. Students in Master's International programs finish one year of graduate school in the United States before earning additional academic credit as Peace Corps volunteers abroad. When they return, students complete any remaining degree requirements necessary for graduation. Returned volunteers receive graduate school scholarships through the Coverdell Fellows Program and complete a degree-related internship in an underserved U.S. community while they pursue their studies. The program is specifically reserved for students who have already completed their Peace Corps service abroad.
The following are the top ten Master's International and Coverdell Fellows programs. To view a PDF of the complete rankings, click here.

Top Master's International Programs:
(The number in parentheses represents the number of students enrolled in the program and serving overseas as of September 30, 2013.)
1. Michigan Technological University (32)
2. Monterey Institute of International Studies (25)
3. Tulane University (24)
4. University of Denver (22)
5. University of South Florida (21)
6. University of Washington (20)
7. George Mason University (16)
8. University of Montana (15)
9. Illinois State University (13)
10. American University (12)
10. Indiana University (12)
10. SIT Graduate Institute (12)
Top Coverdell Fellows Programs:
(The number in parentheses represents the number of returned Peace Corps volunteers currently enrolled in the program.)
1. University of Denver (69)
2. University of Arizona (63)
3. Brandeis University (53)
4. Johns Hopkins University (46)
5. Teachers College, Columbia University (35)
6. Duke University (29)
6. The New School (29)
8. University of Michigan (25)
9. American University (21)
10. Monterey Institute of International Studies (20)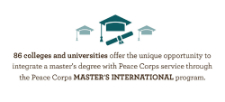 The Peace Corps has Master's International program partnerships that span more than 150 degree programs, and colleges and universities often provide financial benefits such as scholarships and reduced tuition to volunteers. Established in 1987, the program aims to meet the demand overseas for Peace Corps volunteers with high levels of education and technical expertise, and support schools' efforts to provide substantive, internationally focused experiences for their students. To learn more, visit www.peacecorps.gov/masters.
The Paul D. Coverdell Fellows Program began in 1985 at Teachers College, Columbia University and now includes more than 80 university partners. Through the program's internship, Coverdell fellows share their Peace Corps experiences with the communities they serve in the U.S. in support of the agency's mission to further cultural understanding. For more information, visit www.peacecorps.gov/fellows.
About the Peace Corps: As the preeminent international service organization of the United States, the Peace Corps sends Americans abroad to tackle the most pressing needs of people around the world. Peace Corps volunteers work at the grassroots level with local governments, schools, communities, small businesses and entrepreneurs to develop sustainable solutions that address challenges in education, health, economic development, agriculture, environment and youth development. When they return home, volunteers bring their knowledge and experiences – and a global outlook – back to the United States that enriches the lives of those around them. President John F. Kennedy established the Peace Corps in 1961 to foster a better understanding among Americans and people of other countries. Since then, more than 215,000 Americans of all ages have served in 139 countries worldwide. Visit www.peacecorps.gov to learn more.
# # #
---