FOR IMMEDIATE RELEASE:
Tuesday, September 6, 2011
Peace Corps and The State University of New York Announce Historic Masters International Partnership
SUNY graduate students to earn credit for Peace Corps service
Washington, D.C., Sept. 6, 2011 The Peace Corps and The State University of New York (SUNY) announced a new partnership with the
Peace Corps Masters International
(MI) program that will allow SUNY graduate students to earn academic credit for two years of Peace Corps service overseas. The partnership, which is the first of its kind with a statewide university system, impacts current and future students enrolled in the 28 SUNY graduate schools. Peace Corps Director Aaron S. Williams and SUNY Provost and Executive Vice Chancellor David Lavallee formalized the agreement by signing a Memorandum of Cooperation at the SUNY Global Center in New York, N.Y. on
Sept. 6, 2011
.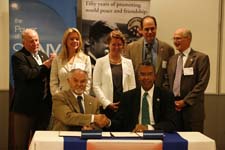 The Masters International program is a truly unique opportunity for any graduate student who is interested in making a difference in the lives of others and gaining valuable work experience overseas, said Peace Corps Director Williams (Dominican Republic, 1967-1970). SUNY graduate students will return to the United States as global citizens with leadership, cross-cultural, language, and technical skills that position them well for all future endeavors.
There are approximately 41,500 students enrolled at SUNY graduate schools, all of which are eligible to apply for the Peace Corps MI program. Since the agency was established in 1961, nearly 3,600 SUNY alumni have served in the Peace Corps. Today, 124 currently serving Peace Corps volunteers earned their undergraduate degree at a SUNY school, while 17 earned an advanced degree. In 2011, New York was ranked #2 as the top producing state of Peace Corps volunteers.
This agreement with the Peace Corps marks an incredible opportunity for the 41,500 graduate students currently enrolled at SUNY and all those who will follow, said SUNY Chancellor Nancy L. Zimpher. With this expanded access to the Masters International Program, our students will have a greater impact on communities across the globe and return home with invaluable experience to add to their educational portfolio.
Students apply separately to the Peace Corps and to a SUNY graduate program in the following areas: agriculture, community economic development, education, environment, health, and youth development. Once accepted by both the Peace Corps and a SUNY graduate school, students begin their studies on a SUNY campus, serve overseas with the Peace Corps for two years, then return to school to finish graduate work. During Peace Corps service, the volunteer will work on projects related to his or her masters studies.
SUNY joins more than 80 other distinguished academic institutions nationwide in establishing a MI partnership with the Peace Corps. The MI program began at Rutgers University-Camden in 1987 and since then, more than 1,000 Peace Corps volunteers have completed the program. For more information, visit
www.peacecorps.gov/masters
.
About the State University of New York:
The State University of New York is the largest comprehensive university system in the United States, educating more than 467,000 students in more than 7,500 degree and certificate programs on 64 campuses with nearly 3 million alumni around the globe. To learn more about how SUNY creates opportunity, visit www.suny.edu.
About the Peace Corps:
President John F. Kennedy established the Peace Corps on March 1, 1961, by executive order. Throughout 2011, Peace Corps is commemorating 50 years of promoting peace and friendship around the world. Historically, more than 200,000 Americans have served with the Peace Corps to promote a better understanding between Americans and the people of 139 host countries. Today, 8,655 volunteers are working with local communities in 76 host countries. Peace Corps volunteers must be U.S. citizens and at least 18 years of age. Peace Corps service is a 27-month commitment. Visit www.peacecorps.gov for more information.
# # #
---