FOR IMMEDIATE RELEASE:
Thursday, March 17, 2011
Peace Corps and Special Olympics to Collaborate on Global Initiatives
Memorandum of Understanding is Signed Between Historic Service Organizations
Washington, D.C., March 17, 2011 The Peace Corps and Special Olympics announce a joint collaboration to increase opportunities to support youth and people with intellectual disabilities through innovative programs around the world. A Memorandum of Understanding (MOU) was signed by Peace Corps Director Aaron S. Williams and Special Olympics Chairman and CEO Timothy Shriver in a ceremony at Peace Corps headquarters in Washington, D.C. on March 16, 2011.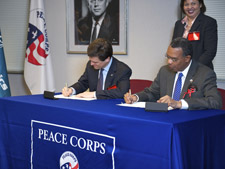 We enter this exciting new partnership in honor of Peace Corps founding Director Sargent Shriver and Eunice Kennedy Shriver, the founder of Special Olympics, said Director Williams. The Peace Corps and Special Olympics are global organizations that empower communities and provide experiences that improve and enhance the lives of others. Both organizations have a shared view that each individual has the potential to do great things, given the opportunity.
The MOU will further promote peace, friendship, acceptance, and mutual understanding. Through the partnership, more Americans will be involved in global initiatives that support those with intellectual disabilities. Peace Corps volunteers around the world will help in planning, organizing, and mobilizing communities to support Special Olympics programs that focus on education, youth development, and community engagement. The work between the two organizations will be focused on five pilot countries: Ecuador, Jordan, Morocco, Peru, and South Africa.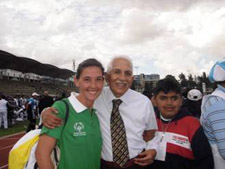 This collaboration between Special Olympics and the Peace Corps will accomplish a number of things, including meeting the human need to serve from the heart, said Timothy Shriver. We are in a world where there are attitudes of mass destruction and the Peace Corps has a way of curing attitudes of fear through their volunteers. We look forward to the Peace Corps taking on a new challenge to work with children with intellectual disabilities throughout the world in a targeted way to help the most neglected population on earth.
Throughout the history of Special Olympics and the Peace Corps, there have been many links, including exceptional Americans who have committed to the Special Olympics Movement and served as Peace Corps volunteers. Kathryn Clark, recent recipient of the
2011 John F. Kennedy Service Award
, served as a volunteer in Sierra Leone from 1968 to 1969 and in Jamaica from 1984 to 1987. After returning from her Peace Corps service in Sierra Leone, Clark became an area coordinator for Special Olympics in North Carolina. When she volunteered again with the Peace Corps in the 1980s, and at the request of Sargent Shriver, she became the first volunteer to launch a Special Olympics-based project. She eventually helped establish Special Olympics programs in Jamaica.
About the Peace Corps:
President John F. Kennedy established the Peace Corps on March 1, 1961, by executive order. Throughout 2011, Peace Corps is commemorating 50 years of promoting peace and friendship around the world. Historically, more than 200,000 Americans have served with the Peace Corps to promote a better understanding between Americans and the people of 139 host countries. Today, 8,655 volunteers are working with local communities in 77 host countries. Peace Corps volunteers must be U.S. citizens and at least 18 years of age. Peace Corps service is a 27-month commitment. Visit www.peacecorps.gov for more information.
About Special Olympics:
Special Olympics is an international organization that changes lives by encouraging and empowering people with intellectual disabilities, promoting acceptance for all, and fostering communities of understanding and respect worldwide. Founded in 1968 by Eunice Kennedy Shriver, the Special Olympics Movement has grown from a few hundred athletes to nearly 3.5 million athletes in over 170 countries in all regions of the world, providing year-round sports training, athletic competition and other related programs. Special Olympics now takes place every day, changing the lives of people with intellectual disabilities in places like China and from regions like the Middle East to the community playgrounds and ballfields in every small neighborhoods backyard. Special Olympics provides people with intellectual disabilities continuing opportunities to realize their potential, develop physical fitness, demonstrate courage, and experience joy and friendship. Visit Special Olympics at www.specialolympics.org.
# # #
---