FOR IMMEDIATE RELEASE:
Wednesday, September 2, 2015
Peace Corps and Millennium Challenge Corporation Renew and Expand Partnership
WASHINGTON, D.C., Sept. 2, 2015 – Peace Corps Director Carrie Hessler-Radelet and Millennium Challenge Corporation CEO Dana J. Hyde this week signed a memorandum of agreement (MOA) to renew and expand upon five years of successful collaboration between the two development agencies. The MOA aims to boost the impact both agencies have on the communities they serve around the world by bringing together MCC's model of country-led, results-oriented development and Peace Corps' grassroots, community-focused reach.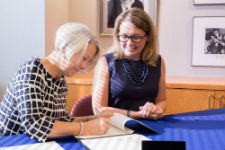 "I am thrilled to formalize the continuation of Peace Corps' partnership with MCC – not only renewing but expanding upon five years of collaboration," Hessler-Radelet said. "This partnership is a natural fit, and we look forward to increasing our work together in the countries we serve."
The new MOA allows Peace Corps volunteers to support MCC fieldwork and lays the foundation to amplify the agencies' progress and priorities more effectively to Congress and the U.S. public. Peace Corps volunteers may be assigned to work on activities and programs as part of the implementation of MCC compacts in countries of mutual interest, and the agencies will explore opportunities to collaborate on volunteer and staff recruitment activities. By joining forces once again, MCC and Peace Corps will continue to strengthen the effectiveness and sustainability of their programs by increasing information sharing between agencies.
"Peace Corps volunteers are a great asset to MCC and support and complement our work," Hyde said. "We are delighted to grow our collaboration with the Peace Corps and share our knowledge, strength and resources to improve the lives of those living in poverty in our partner countries."
The first inter-agency MOA between MCC and Peace Corps was signed in 2010, and since that time, MCC has remained a strong supporter of Peace Corps' mission. More than 30 Peace Corps volunteers in 15 countries have worked with MCC partners in the field, and MCC remains committed to hiring returned Peace Corps volunteers once they complete their service.
MCC and Peace Corps' collaboration was key to U.S. relief efforts in the Philippines following Typhoon Haiyan in 2013. One former volunteer, M. Thomas Duggan, returned to the Philippines as a Peace Corps Response volunteer and drew on the language skills and local knowledge he developed during his initial Peace Corps service to inform MCC's work in repairing damaged infrastructure. This type of knowledge sharing will allow both agencies to make an even bigger difference in the communities they serve.
About the Millennium Challenge Corporation: MCC is an innovative and independent U.S. agency that is working to reduce global poverty through economic growth. Created by the U.S. Congress in January 2004, with strong bipartisan support, MCC provides time-limited grants and assistance to countries that demonstrate a commitment to good governance, investments in people and economic freedom. Learn more about MCC at www.mcc.gov and follow us on Facebook and Twitter.
About the Peace Corps: The Peace Corps sends the best and brightest Americans abroad on behalf of the United States to tackle the most pressing needs of people around the world. Volunteers work at the grassroots level to develop sustainable solutions that address challenges in education, health, economic development, agriculture, environment and youth development. Through their service, volunteers gain a unique cultural understanding and a life-long commitment to service that positions them to succeed in today's global economy. Since President John F. Kennedy established the Peace Corps in 1961, nearly 220,000 Americans of all ages have served in 140 countries worldwide. For more information, visit www.peacecorps.gov and follow us on Facebook and Twitter.
# # #
---