FOR IMMEDIATE RELEASE:
Thursday, May 11, 2006
Peace Corps and German Volunteer Organization Celebrate New Partnership
WASHINGTON, D.C., May 11, 2006 The Peace Corps and the German Development Service (Deutscher Entwicklungsdienst or DED) announced a historic partnership today that will lead to increased collaboration between the two agencies\' volunteers abroad.
The agreement will enable American and German volunteers who have a long history of working together in informal ways at posts ranging from the Philippines to Peru to officially join forces on a wide variety of projects, working with local communities to achieve sustainable development.
"Traveling overseas, I have met with many Peace Corps volunteers who work in tandem with their peers from the DED," said Peace Corps Director Gaddi H. Vasquez. "It\'s a natural fit and everyone benefits. Formalizing these activities will encourage other volunteers to seek similar partnerships and expand the universe of cross-cultural understanding within their country of service."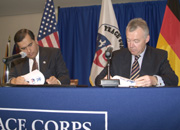 U.S. and German collaboration: Director Vasquez and Director General Wilhelm sign the memorandum.
The signing of the Memorandum of Understanding marks the first alliance between the Peace Corps and DED. Previous collaborations have been localized to individual posts, and no formal system has existed for the participants to best tap into the potential benefits of global collaborations. The memorandum will provide the framework for future collaboration between Peace Corps and DED. Since the missions for both agencies are similar, collaborations will enhance effectiveness and efficiency.
"No country, no organization on its own, be it the World Bank or a small NGO, will be able to achieve satisfying results by only working on its own," said German Development Service Director General Dr. Jrgen Wilhelm. "Therefore, international agreements are needed on the global level, and also on the level of international acting agencies like the Peace Corps and the DED. We will, by doing that, also support and improve the long lasting friendship between the U.S. and Germany."
As examples of collaborations, Peace Corps volunteers and DED technical assistants have worked in partnership in the Philippines on a solid waste management project and a small business project that trains furniture weavers. In Mongolia, a Peace Corps volunteer and a DED technical assistant shared resources and information on their educational activities. In Peru, the DED and Peace Corps discuss policy and programming development, as well as work jointly to identify language and technical experts for training.
The DED is one of the leading European development services for personnel cooperation. It was founded in 1963 and since then more than 15,000 development workers have committed themselves to improving the living conditions of people in Africa, Asia and Latin America. Nearly 1,000 development workers are currently working in over 40 countries.
The Peace Corps is celebrating a 45-year legacy of service at home and abroad and a 30-year high for volunteers in the field. This new partnership is a fitting part of the Peace Corps\' 45th anniversary year, where milestones are being celebrated and new ventures are on the horizon. Since 1961, more than 182,000 volunteers have helped promote a better understanding between Americans and the people of the 138 countries where volunteers have served. Peace Corps volunteers must be U.S. citizens and at least 18 years of age. Peace Corps service is a 27-month commitment.
# # #
---