FOR IMMEDIATE RELEASE:
Thursday, June 5, 2014
Peace Corps and EPA Celebrate World Environment Day
Peace Corps Volunteers Promote Environmental Awareness and Protection
WASHINGTON, D.C., June 5, 2014 – In honor of World Environment Day, the Peace Corps and the U.S. Environmental Protection Agency are collaborating to highlight Peace Corps volunteers who are protecting the environment and strengthening understanding of environmental issues in their communities. Celebrated in more than 100 countries worldwide, World Environment Day presents an opportunity to encourage public awareness and positive action for the environment.
People in developing countries often cook and heat their food over an open flame, which can be costly and dangerous. The overuse of wood and charcoal leads to widespread deforestation, and smoke inhalation can lead to health problems. To reduce the need for fuel, boost income, decrease deforestation, and improve health and air quality, Peace Corps volunteers around the world are helping their communities build improved cookstoves. Read more about Peace Corps volunteers' environmental projects below and on the Peace Corps and EPA blogs.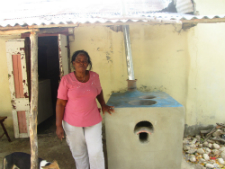 Dominican Republic
In the Dominican Republic, Peace Corps volunteer Courtney Columbus of Lower Burrell, Penn., and a group of local women recently built 70 improved cookstoves around their community. Rather than cooking over an open flame, the cookstoves have an enclosed cooking chamber that burns firewood more efficiently and chimneys that direct smoke away from the chef. Columbus used an adapted cookstove design so the fire inside the stove can heat two hot plates simultaneously, since Dominican women commonly cook pots of rice and beans.
"Improved cookstoves have changed the way that women in our sites cook, changed the air that they breathe, and changed the way they treat their environment," Columbus said. "Those mornings when I stop by my neighbors' homes and see them contentedly boiling a pot of coffee on the improved cookstove that we spent a sweaty day building, and a sweaty year planning for, gives me the motivation to keep working."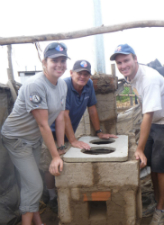 Peru
Peace Corps volunteer Greg Plimpton of Palm Beach Gardens, Fla., recently worked with his community members in Peru to build 15 improved cookstoves with the help of a grant through the Peace Corps' Small Project Assistance program. Plimpton has also trained fellow Peace Corps volunteers, non-governmental organization representatives, and local masons on stove construction, use and maintenance techniques.
"Since completion of my project, the masons and NGOs that I trained have gone on to install over one hundred stoves in the area – a very gratifying and sustainable result," Plimpton said. "It was a real joy for me to see mothers no longer having to wipe tears from their eyes from smoke irritation, toddlers no longer getting close to an open flame, and walls and ceilings no longer covered with nasty soot."
Vanuatu
Currently serving and returned Peace Corps volunteers recently joined forces with Rotary International to deliver efficient cookstoves to 65 households across two villages in Vanuatu. Returned volunteers Charles Hunt of Denver, who served in Vanuatu from 2006-2008, and Dennis Mello, who served in Vanuatu from 2007-2009, along with support from the Denver LoDo Rotary Club and the Port Vila Vanuatu Rotary Club, not only provided the cookstoves but are also studying their impact.
"As a Rotarian and an RPCV, there are opportunities to make a difference if you are willing to act," Hunt said. "This is an opportunity to help the people of Vanuatu and research the effectiveness of our efforts at the same time to give us a better opportunity to create a sustainable project."
About the Peace Corps: As the preeminent international service organization of the United States, the Peace Corps sends Americans abroad to tackle the most pressing needs of people around the world. Peace Corps volunteers work at the grassroots level with local governments, schools, communities, small businesses and entrepreneurs to develop sustainable solutions that address challenges in education, health, economic development, agriculture, environment and youth development. When they return home, volunteers bring their knowledge and experiences – and a global outlook – back to the United States that enriches the lives of those around them. President John F. Kennedy established the Peace Corps in 1961 to foster a better understanding among Americans and people of other countries. Since then, more than 215,000 Americans of all ages have served in 139 countries worldwide. Visit www.peacecorps.gov to learn more.
# # #
---