FOR IMMEDIATE RELEASE:
Friday, September 29, 2017
Peace Corps Acting Director Sheila Crowley, U.S. Congressman Charlie Dent Champion Service at Moravian College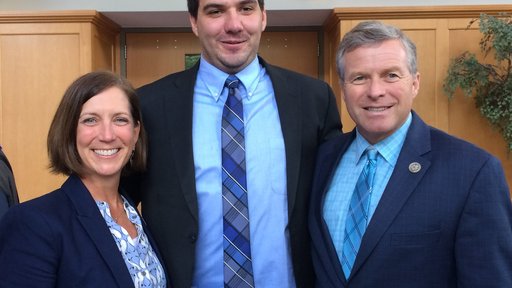 Washington, D.C., September 29, 2017 – Peace Corps Acting Director Sheila Crowley and U.S. Congressman Charlie Dent (PA-15) met with students, faculty and residents today at Moravian College in Bethlehem, Pennsylvania, to discuss the value of making a difference through the Peace Corps and recognize the Keystone State's impetus for service. This year, Pennsylvania ranked as the No. 7 Peace Corps Volunteer-producing state in the nation, with 300 residents currently serving overseas.
"Peace Corps service is an unparalleled leadership and service opportunity that enables college and university alumni to use the creative-thinking skills they developed in school to make an impact in communities around the world," Acting Director Sheila Crowley said. "It's clear that Moravian College alumni have a desire to make the world a better place, their passion for service is ingrained in the Greyhound spirit."
"It was an honor to be part of today's event and I greatly appreciate Moravian College for hosting the program. As a citizen of Pennsylvania, I'm extremely proud that our state again ranks in the top 10 of Peace Corps volunteer-producing states.  The Peace Corps remains the preeminent American program for individuals interested in offering their time, effort and abilities to literally make the world better," Dent said.
Moravian College alumni Krystal Dering, who is serving as a Peace Corps volunteer and Nate Ferraro, who served as a Peace Corps Response volunteer, also attended the event to field questions about their experiences living and working overseas.   
Since the founding of the Peace Corps in 1961, 56 alumni from Moravian College have traveled abroad to serve as Peace Corps volunteers. In 2015, Moravian College partnered with the Peace Corps to launch its Peace Corps Prep Program, which offers students a unique combination of undergraduate coursework and leadership training that are critical to the intercultural fieldwork of successful Peace Corps volunteers.
College graduates who serve with the Peace Corps return home with cross-cultural, leadership, community development and language skills that help to strengthen international ties and increase our country's global competitiveness.
# # #
About the Peace Corps: The Peace Corps sends Americans with a passion for service abroad on behalf of the United States to work with communities and create lasting change. Volunteers develop sustainable solutions to address challenges in education, health, economic development, agriculture, environment and youth development. Through their Peace Corps experience, Volunteers gain a unique cultural understanding and a life-long commitment to service that positions them to succeed in today's global economy. Since President John F. Kennedy established the Peace Corps in 1961, more than 225,000 Americans of all ages have served in 141 countries worldwide. For more information, visit peacecorps.gov and follow us on Facebook and Twitter.
---