FOR IMMEDIATE RELEASE:
Monday, March 31, 2014
Peace Corps Acting Director Carrie Hessler-Radelet, U.S. Congressman Charlie Dent Promote Service at Lehigh University
WASHINGTON, D.C., March 31, 2014 – Peace Corps Acting Director Carrie Hessler-Radelet and U.S. Congressman Charlie Dent (PA-15) spoke with students and faculty from across the region today at Lehigh University in Bethlehem, Pa., about the inspiring work of Peace Corps volunteers and how Peace Corps service can give them a competitive edge in today's global job market.
"The Peace Corps is not just a chance to make a difference in some of the most forgotten corners of our world, it is also a training ground unlike any other and a launching pad for a 21st century career," said Hessler-Radelet, who served as a Peace Corps volunteer in Western Samoa from 1981-1983. "The Peace Corps experience is a pathway to unlocking potential you may not even know you have."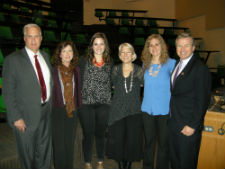 Current Peace Corps volunteer Haleigh Duggan, of Lower Macungie, Pa., and returned volunteer and Lehigh alumna Ryan Ruggiero also participated in the event. Duggan spoke remotely from her service site in Mozambique about her work as an English teacher at a secondary school in her rural community. She hopes to pursue international development or human rights in Africa following her Peace Corps service. Ruggiero, who completed three years of service in South Africa in April 2013, discussed her work to promote HIV prevention among out-of-school youth and rural women through peer education, awareness campaigns and skills development. She now works for the General Services Administration, an agency of the U.S. Federal Government.
"My wife, Pam, and I have seen firsthand, both in Ethiopia and in the Dominican Republic, the great work that Peace Corps volunteers can accomplish," Dent said. "They are greatly appreciated by the people of the local community. Service in the Peace Corps is a noble endeavor."
While at Lehigh, Hessler-Radelet and Dent also met with local returned Peace Corps volunteers, including Lehigh Professor Emeritus of Computer Science and Engineering Edwin Kay, who served as a volunteer in Cameroon with his wife from 1995-1997.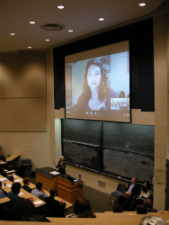 Since 1961, 228 Lehigh alumni have served overseas as Peace Corps volunteers. Craig Zarnosky, a Lehigh graduate, has just begun his volunteer training in Zambia, where he will work to improve food security and environmental stewardship. Pennsylvania ranks No. 8 among states nationwide for Peace Corps volunteers with 284 residents currently serving.
College graduates who serve with the Peace Corps return home with cross-cultural, leadership, community development and language skills that help to strengthen international ties and increase our country's global competitiveness.
The Peace Corps has eight regional recruitment offices across the country that work closely with prospective volunteers of all ages and backgrounds to ensure that all Americans who want to serve have the opportunity to do so. Students and community members can contact the Peace Corps' Northeast Regional Office at [email protected] for more information.
About the Peace Corps: As the preeminent international service organization of the United States, the Peace Corps sends Americans abroad to tackle the most pressing needs of people around the world. Peace Corps volunteers work at the grassroots level with local governments, schools, communities, small businesses and entrepreneurs to develop sustainable solutions that address challenges in education, health, economic development, agriculture, environment and youth development. When they return home, volunteers bring their knowledge and experiences – and a global outlook – back to the United States that enriches the lives of those around them. President John F. Kennedy established the Peace Corps in 1961 to foster a better understanding among Americans and people of other countries. Since then, more than 215,000 Americans of all ages have served in 139 countries worldwide. Visit www.peacecorps.gov to learn more.
# # #
---