FOR IMMEDIATE RELEASE:
Thursday, April 25, 2013
On World Malaria Day, Peace Corps Volunteers Worldwide Participate in Malaria Prevention Activities
WASHINGTON, D.C., April 25, 2013 – In recognition of World Malaria Day, Peace Corps volunteers worldwide are participating in projects to help educate communities on malaria prevention and ways to reduce malaria-related deaths. Peace Corps Deputy Director Carrie Hessler-Radelet and U.S. Global Malaria Coordinator Rear Admiral Tim Ziemer also joined U.S. Congressman Sam Farr today on Capitol Hill for a forum to mark World Malaria Day and highlight progress made in combating malaria in Africa.
The Peace Corps is leading efforts to eradicate the disease in partnership with the President's Malaria Initiative (PMI) and non-governmental organizations from around the world through the Stomping Out Malaria in Africa initiative, which today celebrates its second anniversary. The effort mobilizes more than 3,000 Peace Corps volunteers across 23 high-incidence nations in Africa in the fight against the mosquito-borne disease that kills more than 650,000 people each year. Volunteers distribute insecticide-treated bed nets and educate communities about how best to prevent the disease.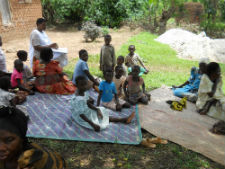 "Peace Corps volunteers are complementing the work of global partners to help eradicate malaria through innovative, grassroots solutions," Peace Corps Deputy Director Carrie Hessler-Radelet said. "With the expertise and resources of the President's Malaria Initiative and all of our partners in the field, and the support of Congress, we can further our progress and help put an end to this horrible disease."
See examples of Stomping Out Malaria in Africa initiatives below:
Ghana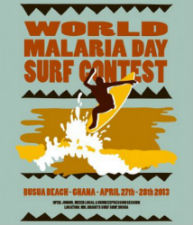 Peace Corps volunteer Johanna Twiford of Blackstone, Va., is working with Standing with Africa to Terminate (SWAT) malaria team members to organize 150 Peace Corps volunteers across Ghana to participate in malaria prevention activities. Ten SWAT regional representatives have developed 15 World Malaria Day activities designed to provide volunteers in all sectors with easy, accessible ways to execute malaria interventions in their local communities.
"We are setting our sights high because Ghana has an amazing group of volunteers and our standards have always been high," Twiford said. "We're utilizing the on-the-ground support we already have here in Ghana with PCVs located in rural communities and schools in all 10 regions."
In addition to community-based activities, Peace Corps volunteer Luke Campanella of Oceanside, Calif., is organizing the first World Malaria Day surf contest in the Western Region to raise awareness around the epidemic. Campanella and fellow Peace Corps volunteers are leading educational sessions, including a malaria video presentation, a malaria quiz competition, and bed net hanging demonstrations prior to the contest.
Rwanda
Peace Corps volunteer Virginia Burger of Minneapolis, Minn., recently collaborated with community members and fellow Peace Corps volunteers to organize a Boys Excelling (BE) camp for nearly 70 secondary school students in the Eastern Region of Rwanda. The five-day camp focused on educating participants about healthy lifestyle skills and malaria prevention tactics.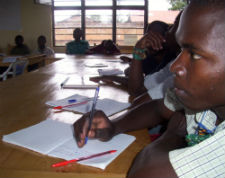 "The areas where the camps are held have some of the highest malaria burdens in the country, with camps being the perfect place to deliver relevant and needed information to a captive audience," Burger said. "The lessons included information on the history of malaria, its effect in Rwanda, its transmission, and methods of prevention and treatment."
Each camp lesson was taught by a Peace Corps volunteer and a Rwandan facilitator. Upon returning home from the camp, participants were encouraged to act as peer educators and start BE clubs in their local schools.
"The students took advantage of the informal class setting to ask as many questions as they could," continued Burger. "When I asked the students if they think malaria is a serious problem in Rwanda, the answer was an overwhelming 'yes.' I hope students left the lesson with the drive to become malaria fighters in their communities, newly aware of its burdens. I certainly believe in their potential."
Uganda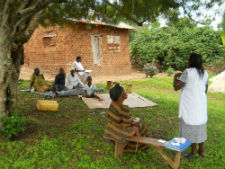 Peace Corps volunteer Chris Peterson of Kingsford, Mich., is working with a Ugandan organization that provides assistance to orphans across the country to prepare and lead three mobile health clinics each week. More than one hundred villages are serviced by the clinics, which are attended by 70 to 120 community members interested in learning about healthy lifestyle choices. Attendees also receive free preventive and curative medicines and participate in a malaria prevention lesson.
Peterson has developed a simple bed net curriculum that can be delivered verbally to Ugandans of all ages in informal settings. He is also planning a study with Peace Corps volunteer Katie Oswald of Bay City, Mich., on the value of social communication about the benefits of bed net use. The study will help determine if recurring input from outside organizations is critical for bed nets to become an accepted part of everyday life in Uganda.
About the Peace Corps: Since President John F. Kennedy established the Peace Corps by executive order on March 1, 1961, more than 210,000 Americans have served in 139 host countries. Today, 8,073 volunteers are working with local communities in 76 host countries in agriculture, community economic development, education, environment, health and youth in development. Peace Corps volunteers must be U.S. citizens and at least 18 years of age. Peace Corps service is a 27-month commitment and the agency's mission is to promote world peace and friendship and a better understanding between Americans and people of other countries. Visit www.peacecorps.gov for more information.
# # #
---