FOR IMMEDIATE RELEASE:
Monday, December 1, 2014
On World AIDS Day, Peace Corps' Global Health Service Partnership to Expand
More than half of all Peace Corps volunteers engage in HIV/AIDS-related activities during their service
WASHINGTON, D.C., Dec. 1, 2014 – Today during a World AIDS Day event at the White House, Secretary of State John Kerry announced the U.S. government's commitment to invest additional resources in the Global Health Service Partnership (GHSP), a unique public-private partnership between the Peace Corps, the President's Emergency Plan for AIDS Relief (PEPFAR) and the non-profit Seed Global Health. This innovative partnership sends U.S. healthcare professionals abroad, through the Peace Corps Response program, to focus on teaching and expanding clinical capacity. In its inaugural year alone (2013-2014), 30 GHSP volunteers in Malawi, Tanzania and Uganda taught more than 2,800 medical and nursing faculty and trainees and 85 new courses and trainings.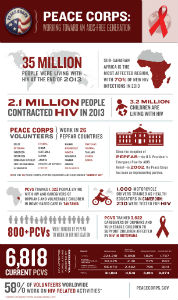 "We are very excited about the U.S. government's expanded support of the Global Health Service Partnership," Peace Corps Director Carrie Hessler-Radelet said. "This partnership is a sustainable way to further Peace Corps' commitment to global health. The language and cultural training that all Peace Corps volunteers receive during their service uniquely positions them to play an essential role in the fight against HIV/AIDS."
World AIDS Day is recognized annually on Dec. 1 to raise awareness around HIV/AIDS, decrease stigma and discrimination of those living with the disease, and honor those we have lost. Peace Corps volunteers worldwide work year-round to educate community members about HIV/AIDS and implement effective, sustainable programs to combat the disease. In 2013, 58 percent of all volunteers worked on HIV/AIDS-related activities and assisted more than 311,800 individuals in nearly 3,400 communities around the world in improving community health and mitigating the effects of the disease. An infographic on Peace Corps' work in HIV/AIDS is available here.
"In commemoration of World AIDS Day this year, I'm working with fellow volunteers across four regions in Ghana to distribute stencils that incorporate HIV-awareness messages to 22 different communities," said Peace Corps volunteer Matthew O'Neill, a native of Belmont, Massachusetts, who has been living in Ghana since 2013. "We were able to produce the stencils through PEPFAR funding as a creative way to spread awareness and educate community members about HIV. Volunteers in each of the 22 communities will paint at least one stencil in a public area."
Since PEPFAR's inception 11 years ago, the Peace Corps has been a key partner and currently sends volunteers to work in 26 PEPFAR countries. All Peace Corps volunteers who serve in Africa, the Caribbean, Eastern Europe, and Central Asia are trained to be advocates and educators of HIV/AIDS prevention and care. For more information about the Peace Corps' work on HIV/AIDS, visit http://www.peacecorps.gov/learn/whatvol/hivaids/.
About the Peace Corps: The Peace Corps sends the best and brightest Americans abroad on behalf of the United States to tackle the most pressing needs of people around the world. Volunteers work at the grassroots level to develop sustainable solutions that address challenges in education, health, economic development, agriculture, environment and youth development. Through their service, volunteers gain a unique cultural understanding and a life-long commitment to service that positions them to succeed in today's global economy. Since President John F. Kennedy established the Peace Corps in 1961, nearly 220,000 Americans of all ages have served in 140 countries worldwide. For more information, visit www.peacecorps.gov and follow us on Facebook and Twitter.
# # #
---