FOR IMMEDIATE RELEASE:
Tuesday, November 19, 2013
On International Men's Day, Peace Corps Highlights Gender Equality Projects Around the World
WASHINGTON, D.C., Nov. 19, 2013 – In honor of International Men's Day, the Peace Corps recognizes volunteers worldwide who are making a difference by engaging their local community members in programs and activities that encourage thinking beyond traditional gender roles and inspire self-confidence. Below find three examples of volunteer-led projects that promote gender equality.
Cambodia
Peace Corps volunteers in Cambodia recently collaborated with teachers from two neighboring provinces to hold a three-day camp for young men that addressed gender-related topics typically overlooked or misunderstood in public schools. Camp BREW – Boys Respecting Empowered Women – engaged 50 young men ages 14-18 in discussions on reproductive health and sexually transmitted diseases, domestic violence prevention, lifestyle choices and planning for the future.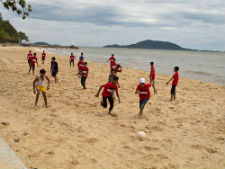 "Camp BREW allowed young men to be exposed to and discuss gender-related topics in a safe environment, while they gained knowledge and skills in areas needed to succeed after graduation," said Peace Corps volunteer Rich Durnan of Ridgway, Colo., who has been serving in Cambodia since 2012. "It also created a rare opportunity for Cambodian students from different provinces to meet and exchange ideas on how to better their communities."
Guyana
Peace Corps Response volunteer Melissa Trainor of New Lebanon, Pa., recently organized the first Camp STOMP – Supportive Teamwork Opening Minds Positively. Camp STOMP gave 30 young men ages 14-17 the opportunity to develop skills in leadership, positive decision-making, healthy living, and short- and long-term goal-setting.
The three-week camp incorporated a number of activities focused on empowerment and education as well as a mentorship program that connected the participants with male role models for discussions on healthy choices and future goals. Campers also learned about HIV/AIDS, effective communication and relationship skills. Peace Corps' Volunteer Activity Support and Training (VAST) grant program provided funds from the President's Emergency Plan for AIDS Relief (PEPFAR) to help make the camp a reality.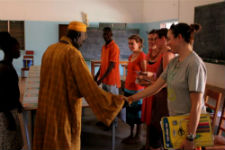 Senegal
Peace Corps volunteers in Senegal recently organized a girls leadership camp that brought together 25 young women and their fathers. The hands-on camp included sessions on how to overcome obstacles and set career goals, and the importance of advocating for women's rights. The campers and their fathers also participated in panel discussions and a group art project, and created action plans to lay out their goals for the future.
"The camp allowed the girls to create concrete plans for how to achieve their dreams and provided a safe space for the girls to dialogue around health, early pregnancy, sexuality and education," said Peace Corps volunteer Jennifer Patrice Conner of Kenner, La., who helped lead the camp. "This camp was unique in that it helped change the way the girls' fathers viewed them – as individuals with goals, dreams and ambitions."
About the Peace Corps: Since President John F. Kennedy established the Peace Corps by executive order on March 1, 1961, more than 210,000 Americans have served in 139 host countries. Today, 8,073 volunteers are working with local communities in 76 host countries in agriculture, community economic development, education, environment, health and youth in development. Peace Corps volunteers must be U.S. citizens and at least 18 years of age. Peace Corps service is a 27-month commitment and the agency's mission is to promote world peace and friendship and a better understanding between Americans and people of other countries. Visit www.peacecorps.gov for more information.
# # #
---