FOR IMMEDIATE RELEASE:
Wednesday, November 15, 2006
On First Overseas Visit, New Peace Corps Director Welcomed by Moroccans and Volunteers
WASHINGTON, D.C., November 15, 2006 Peace Corps Director Ron Tschetter traveled to the Kingdom of Morocco from November 9-13 his first official trip to meet with Peace Corps Volunteers and government officials. Tschetter, the 17th director of the Peace Corps, was a Peace Corps Volunteer in India from 1966-68 with his wife, Nancy, who accompanied him in Morocco.
Shortly after his arrival in Morocco, Director Tschetter met with Peace Corps Volunteers serving in a variety of programs in the four sectors of environment, youth development, health, and small business development.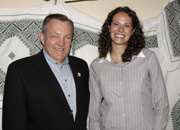 Volunteer Lindsay Kurlak and Director Tschetter stand in front of an embroidered cloth hanging, representing the work of the women\'s textile association.
His first visit was to Lindsay Kurlak, of Pittsburgh, who is working with a women\'s artisan association in a village near Marrakech, helping them to develop more marketable textile products, a computer training program, and better business skills.
In a meeting with Director Tschetter, Atika Ait Nejjar, the president of the women\'s artisan association, and Kurlak\'s local counterpart, said, "I want to thank the Peace Corps for its help with the artisan community. Lindsay has touched our lives and expanded our opportunities."
Director Tschetter also visited second year environment Volunteer Carly Edwards, of Fenton, Mich., at her site. Edwards is serving as a liaison between the park staff and the local people to assist with sustainable natural resource-based economic development projects. During a nature walk around the lake, Edwards showed Director Tschetter how she monitors regional bird species and works to promote eco-tourism and environmental education practices. Edwards also is involved with numerous secondary projects focusing on empowering girls and women in Morocco.
Director Tschetter visited another small business development Volunteer, Nam LaMore, who has over 15 years of Silicon Valley, Calif., marketing experience.
LaMore is providing training to woodworking artisans to improve their sales profit and explore new markets for their cedar wood goods.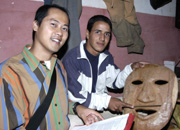 Volunteer Nam LaMore and a local artisan show a carving from the wood working cooperative.
"Nam is a great example of how relevant Peace Corps\' three goals remain after 45 years," said Director Tschetter. "Nam has brought his training and unique background to the woodworkers and has integrated into the community. Not only is Nam creating a better understanding of Americans here in Morocco, but he has a deep appreciation of Moroccans that he will bring back to the United States to share."
U.S. Ambassador Thomas Riley, a strong supporter of the Peace Corps, hosted Director Tschetter at a reception honoring the Peace Corps, attended by many of Morocco\'s government officials, including the Minister of Health.
"I am very impressed and pleased with the warm welcome of the Moroccan people, and the tremendous work of the Peace Corps Volunteers in Morocco. The Peace Corps Volunteers are all serving at the grassroots level, providing valuable skills and forming strong friendships with the Moroccan people," said Director Tschetter.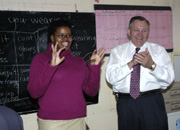 Director Tschetter participates in Volunteer Tia Tucker\'s English class.
Later, Director Tschetter visited Tia Tucker, a youth development Volunteer from Sulfur, La. Tucker is teaching English and developing youth programs in a mid-Atlas Mountain community vocational school for girls.
Tucker observed how eager the young women in her community are to learn English and experience American culture through her creative instruction of film, handicraft projects, and the choreography ofrican culture through her creative instruction of film, handicraft projects, and the choreography of hip-hop dance.
"I want the people of Morocco to know that I\'m more than just an English teacher: I\'m their American friend," she said.
In addition to meeting current Volunteers, Director Tschetter met many of the 54 Peace Corps trainees in Morocco, who will be sworn-in shortly. The trainees include several married couples, including one couple who will bring significant experience to their work as Peace Corps small business development Volunteers.
Since 1963, more than 3,800 Peace Corps Volunteers have served in Morocco, one of the three Muslim Arab countries in which Peace Corps operates. Today, there are 139 Peace Corps Volunteers serving in Morocco. Currently, 20 percent of all Peace Corps Volunteers are serving in predominately Muslim countries. To learn more about Morocco, please visit the
Where Do Volunteers Go?
section.
The Peace Corps is celebrating a 45-year legacy of service at home and abroad, and a 30-year high for Volunteers in the field. Since 1961, more than 182,000 Volunteers have helped promote a better understanding between Americans and the people of the 138 countries where Volunteers have served. Peace Corps Volunteers must be U.S. citizens and at least 18 years of age. Peace Corps service is a 27-month commitment.
# # #
---