FOR IMMEDIATE RELEASE:
Friday, November 9, 2012
Oldest Peace Corps Volunteer in Service Turns 83 on Tuesday, November 13
WASHINGTON, D.C., November 13, 2012 – Emily Dewhirst of Knoxville, Tenn., the oldest Peace Corps volunteer in service, turns 83 on Tuesday, November 13, 2012. Dewhirst is currently serving her third assignment with Peace Corps as a Peace Corps Response volunteer in Moldova.
"The advantage of being older certainly includes the fact that age is revered in the countries where I have worked," Dewhirst said. "People look at me and appreciate the expertise and experience I bring. They are more inclined to believe I can share meaningful ways of doing things."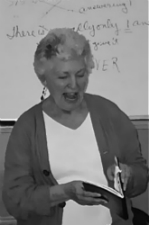 With more life experience than the typical Peace Corps volunteer, Dewhirst believes she has found her niche with Peace Corps Response, a program that provides opportunities for qualified Americans to undertake short-term, high-impact assignments in various sectors around the world. Assignments last between three months and one year with an opportunity to extend based on program needs.
"The Peace Corps Response program is uniquely suited to me. I can commit for a shorter time, and I am able to use my talents where they are needed and wanted," said Dewhirst.
Having lived and traveled all over the world, Dewhirst took her first Peace Corps assignment in Kazakhstan at the age of 63, when she served for two years teaching English and working with English teachers to improve their skills. At age 81, she served in Armenia for six months as part of Peace Corps Response, where she developed and taught a series of English classes that were used in her village's schools and replicated throughout Armenia at other Peace Corps posts. In October 2012, she headed to Moldova for her second Peace Corps Response assignment, where she will focus on improving English education for teachers and students.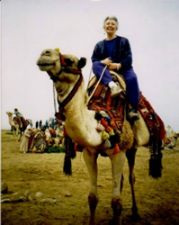 Dewhirst said her favorite part of all of her assignments has been working with teachers and students.
No matter what their age, Dewhirst encourages anyone who wants to commit to making a difference in the lives of others to apply for the Peace Corps.
"If you're really interested in other people, learning from them, then this is the job for you," she said. "What we bring to the lives of others is our creativity, our openness and our energy."
About Peace Corps/Moldova: More than 1,080 Peace Corps volunteers have served in Moldova since the program was established in 1993. Currently, about 120 volunteers serve in Moldova. Volunteers work in the areas of English education, health, business development, and community development. Volunteers are trained and work in Romanian and Russian.
About the Peace Corps: Since President John F. Kennedy established the Peace Corps by executive order on March 1, 1961, more than 210,000 Americans have served in 139 host countries. Today, 8,073 volunteers are working with local communities in 76 host countries in agriculture, community economic development, education, environment, health and youth in development. Peace Corps volunteers must be U.S. citizens and at least 18 years of age. Peace Corps service is a 27-month commitment and the agency's mission is to promote world peace and friendship and a better understanding between Americans and people of other countries. Visit www.peacecorps.gov for more information.
# # #
---