FOR IMMEDIATE RELEASE:
Friday, June 2, 2006
Oldest Known Returned Peace Corps Volunteer Turns 100
WASHINGTON, D.C., June 2, 2006 When Evangeline Shuler, born in 1906 and who served as a volunteer in the 1960s, arrived at a recent 45th anniversary event for the Peace Corps, it seemed almost everyone in the room wanted to hear her stories.
Shuler, of Seattle, turns 100 on June 4, and while the Peace Corps does not uniformly collect statistics on volunteers once they leave service, she is the oldest known returned Peace Corps volunteer alive today.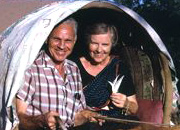 Shuler and her husband riding in a bullock cart while serving in India
Shuler, who always loved to travel and immerse herself in other cultures, joined the Peace Corps with her husband in 1967 at the age of 62, serving as an applied nutrition volunteer in India. At the time, I felt other world-wide government projects didnt seem to be working, and maybe this one would, Shuler said of her decision to become a part of the newly formed agency. My husband and I always wanted to serve in a foreign country. We found India to be a fascinating country, and working with the proud and friendly people a rewarding experience.
Unlike most of todays pre-arranged Peace Corps assignments, at her post in Maharashtra State the Indian government had given volunteers the option to essentially do whatever it was that the villagers needed. Having spent much of her life dedicated to promoting literacy and starting basic libraries in small towns, Shuler saw this as an opportunity to make a real difference.
Shuler urged villagers to plant their own gardens on their small plots of land next to their homes. She taught them to use a sewing machine; to build smokeless chulas (stoves) out of dung, water and mud; and to make soak pits which drained their unpaved streets. In addition, Shuler worked with a Rotarian friend in the U.S. to collect money to buy supplies and books for the village school children. Shuler said her biggest accomplishment in the Peace Corps was working with children and women, and helping the villagers make soak pits. From an outsiders perspective, however, Shulers largest accomplishment may have been that, at 62, she was a pioneer: traveling as an older volunteer to a developing country on the other side of the world.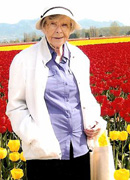 Shuler today, in Seattle at a flower expo
Shuler found the people of her host country to be open and friendly, and because she and her husband were older than the average volunteer in the area, they received special attention. Once, on a typically over-crowded bus, passengers intercepted thieves trying to steal her wallet. Particularly in Asian cultures, Shuler said, older people are highly respected. She has never forgotten their kindness or willingness to step in and help.
A year and three months into their Peace Corps service, her husband contracted meningitis and died. At that point, Shuler could have easily given up and returned to the U.S., but after a short trip home, she went back to India to fulfill the service and commitment they had begun together. She has not returned since, but admitted she would consider it.
At 100 years old and still passionate about the world around her and its various cultures, Shuler believes the Peace Corps is certainly still relevant today, and said she absolutely would recommend volunteering to other people.
Although the average age of a Peace Corps volunteer today is 28, increasingly more Americans are choosing to join the Peace Corps later in life. Of the 7,810 volunteers currently serving in countries around the globe, 6 percent, or 435 volunteers, are age 50 or older. The oldest serving volunteer today is 79 years of age.
The Peace Corps sent volunteers to India from 1961 to 1976. In total, 4,325 volunteers served in areas such as agriculture, food production, nut 1961 to 1976. In total, 4,325 volunteers served in areas such as agriculture, food production, nutrition, and family planning. In 1974, the Indian government requested a five-year phase out of all Western volunteer programs, and in 1976, the Peace Corps sent its last volunteers home.
The Peace Corps is celebrating a 45-year legacy of service at home and abroad, and a 30-year high for volunteers in the field. Since 1961, more than 182,000 volunteers have helped promote a better understanding between Americans and the people of the 138 countries where volunteers have served. Peace Corps volunteers must be U.S. citizens and at least 18 years of age. Peace Corps service is a 27-month commitment.
# # #
---