FOR IMMEDIATE RELEASE:
Wednesday, June 29, 2011
Nine New Peace Corps Country Directors Sworn In for Service
Seven of the new country directors are returned Peace Corps volunteers
WASHINGTON, D.C., June 29, 2011 Nine new Peace Corps country directors completed three weeks of staff training and were sworn-in for service at Peace Corps Headquarters before departing for positions in Azerbaijan, Botswana, Bulgaria, Cambodia, Guinea, Philippines, Swaziland, Thailand, and Uganda.
Country directors are responsible for the management and direction of all aspects
of the Peace Corps program in their countries of assignment. The country directors support volunteers in the field and they lend their skills and energy to meet Peace Corps program goals. All Peace Corps country directors complete Overseas Staff Training (OST) at Peace Corps headquarters to prepare for their new roles.
We are proud to welcome this group of country directors to the Peace Corps community, said Peace Corps Director Aaron S. Williams. Their dedication and leadership will help us promote a better understanding between host countries and Americans.
The new country directors include: Macie Whittington (Azerbaijan), Tim Hartman (Botswana), Mikel Herrington (Bulgaria), Penny Fields (Cambodia), Julie Burns (Guinea), Denny F. Robertson (Philippines), Steven Driehaus (Swaziland), David Claussenius (Thailand), and Loucine Hayes (Uganda).
The new country directors bring a vast array of professional experience to the Peace Corps, with their backgrounds ranging in information technology (IT), public health, government, law, and the nonprofit sector.
The following are brief biographies of the Peace Corps country directors: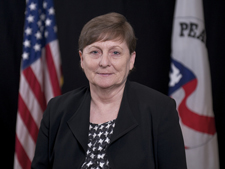 Azerbaijan Macie Whittington
(RPCV Moldova, 2008-2010)
Macie Whittington has spent most of her career in the private sector in executive leadership positions in medium to large IT technology and services providers. Her recent experience includes vice president of operations and vice president of channels and alliances for a global IT services company. Whittington has also led international business development and marketing for consulting and services firms, working with partners such as HP, IBM, and Fujitsu in North America, Europe, and Asia.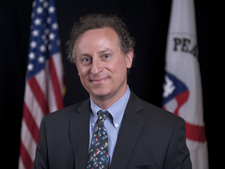 Botswana Tim Hartman
(RPCV Cameroon, 1986-1989)
Most recently, Tim Hartman served as president and chief operating officer of BroadReach Healthcares Global Health division. He has also worked for Computer Science Corporation\'s Global Health Solutions Group and APM Inc. Hartman has assisted implement large scale HIV/AIDS care and treatment programs in Africa, helped many of Americas premier health systems reach ambitious strategic and operational goals, and worked in grassroots international development projects. Hartman received his Master of Business Administration degree from the Yale School of Management and his bachelors in philosophy from Stanford University.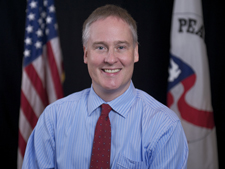 Bulgaria Mikel Herrington
Mikel Herrington worked for almost 14 years with the Corporation for National and Community Service, where he spent most of his tenure in the AmeriCorps National Civilian Community Corps (NCCC) program. Herrington has directed English language and U.S. cultural programs in China, led a team of graduate students from Columbia University on a maternal, infant, and child health care project in Belize, and served as a research fellow at the Centre for Strategic and International Studies in Jakarta, Indonesia. Herrington graduated from Yale University with a bachelors degree in English literature in 1983 and from Columbia Universitys School of International and Public Affairs with a masters in international affairs in 1991.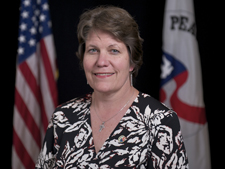 Cambodia Penny Fields
(RPCV Gabon, 1988-1990)
Penny Fields has practiced law in Seattle, Wash. for the past seven years, focusing on contract disputes, Internet and technology issues, and political law. Fields has also worked for various development consulting firms, including Chemonics International and Management Systems International. In 1995, Fields served as an associate country director for the natural resource management program in Peace Corps/Niger, an associate director for the education program in Peace Corps/Poland, and a training director for Peace Corps/Bangladesh. Fields holds a masters degree in international development management at American University. In 2004, Fields obtained a Juris Doctorate degree from the University of Washington School of Law, with an emphasis on public international law.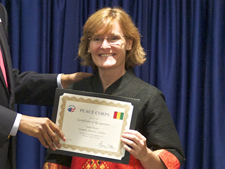 Guinea Julie Burns
(RPCV Zaire, 1988-1991)
Julie Burns worked for more than a decade with Outward Bound and National Outdoor Leadership School running international courses and high-altitude mountaineering expeditions. She later joined Cornell Outdoor Education as the director of Wilderness Programs and Risk Management, teaching leadership courses for the Cornell Team and Leadership Center. Burns has worked in several international nongovernmental development agencies in Rwanda and the Democratic Republic of Congo. Burns attended the University of Minnesota for her bachelors degree and holds a masters in public administration and a doctorate in adult education from Cornell University.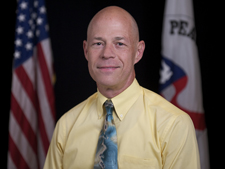 Philippines Denny F. Robertson
(RPCV Philippines, 1977-1979)
Denny Robertson is a former senior foreign service officer with the U.S. Agency for International Development (USAID). He held multiple posts in Africa, Southeast Asia, Eastern Europe, and Latin America over 25 years and was recently USAID mission director in Romania and the Caucasus. Robertson earned a bachelors degree in natural resources from the University of Michigan and a masters in community development from Michigan State University.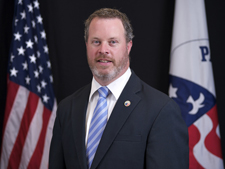 Swaziland Steve Driehaus
(RPCV Senegal, 1988-1990)
Steve Driehaus served as a member of the U.S. House of Representatives for Ohio\'s 1st Congressional District from 2009 to 2011. From 2000 to 2008, Driehaus served with the Ohio House of Representatives. Driehaus has also worked as the executive director of the Community Building Institute and for Indiana University, coordinating a large professional internship program between Southern Africa and the United States. Driehaus studied political science at Miami University, Ohio and holds a Master of Public Administration from Indiana University.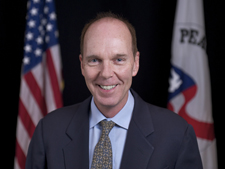 Thailand David R. Claussenius
(RPCV Philippines, 1977-1979)
David Claussenius joined Save the Children/U.S. as deputy director for Asia Pacific region in 1988 and has subsequently held several leadership positions with the organization. He has served as director of the Philippine and Asia and Middle East programs, headed the program in Vietnam, and worked as regional director for South and Southeast Asia. Most recently, Claussenius was the lead project manager of an international program unit Save the Children, implementing programs in 72 countries. Claussenius holds a bachelors in counseling psychology from the University of Oregon in Eugene and a masters in international studies from Columbia University.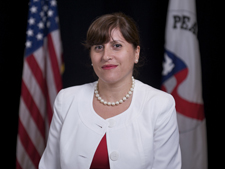 Uganda Loucine Hayes
Loucine Hayes was born in a small town in the Armenian highlands. She completed her undergraduate studies and worked as a journalist in Armenia where she met and married a Peace Corps volunteer. After becoming an American citizen in 1999, Hayes taught English in Saudi Arabia, worked as communications and program manager for World Vision-Armenia, and then began a career with Habitat for Humanity, where she served as a country director in Vanuatu, and as a regional housing microfinance manager for Habitat Europe and Central Asia. Hayes earned her Master of Business Administration degree at Edinburgh Business School in Scotland.
About the Peace Corps:
President John F. Kennedy established the Peace Corps on March 1, 1961, by executive order. Throughout 2011, Peace Corps is commemorating 50 years of promoting peace and friendship around the world. Historically, more than 200,000 Americans have served with the Peace Corps to promote a better understanding between Americans and the people of 139 host countries. Today, 8,655 volunteers are working with local communities in 77 host countries. Peace Corps volunteers must be U.S. citizens and at least 18 years of age. Peace Corps service is a 27-month commitment. Visit www.peacecorps.gov for more information.
# # #
---