FOR IMMEDIATE RELEASE:
Monday, November 22, 2010
Nearly 180 New Peace Corps Volunteers Sworn into Service around Thanksgiving
Washington, D.C., November 22, 2010Nearly 180 Americans will be sworn-in Thanksgiving week as new Peace Corps volunteers in Macedonia, Morocco, Tanzania and Nicaragua.
"Thanksgiving this year has a special meaning for the nearly 180 Americans who will be sworn-in as Peace Corps volunteers after completing their training, said Peace Corps Director Aaron S. Williams (Dominican Republic 1967-70). I remember my first Thanksgiving as a Peace Corps volunteer and how special it was to share American traditions with new friends. I wish all of our volunteers serving overseas a joyful Thanksgiving and thank them for sharing their generosity and commitment to public service with their local host communities.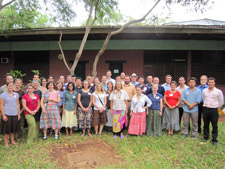 For the past two months, each of the new volunteers has undergone intensive cultural, language and technical training in their country of service. After they are sworn-in, each volunteer will leave for their permanent Peace Corps site in a local community. Each volunteer will serve for 27 months, including their training. There is no deadline to apply to serve with the Peace Corps. The agency is recruiting, placing and training Americans for service in 77 host countries throughout the year.
Macedonia
On Thanksgiving Day, Peace Corps volunteers in Macedonia will be sworn into service by the U.S. Ambassador to Macedonia Philip Reeker. Following the ceremony, the 37 new volunteers, their host families and other volunteers in Macedonia will have an authentic Thanksgiving dinner.
Morocco
On Wednesday, Nov. 24, 63 Peace Corps volunteers will be sworn-in at a ministry theater by a representative from the U.S. Embassy in Morocco. Afterwards, the new volunteers and Peace Corps staff will have a Thanksgiving-style lunch with Moroccan turkey at the Peace Corps office. On Thanksgiving Day, the new Volunteers will depart for their local host communities.
Nicaragua
On Monday, Nov. 22, 42 Peace Corps volunteers were sworn-in during a ceremony in Nicaragua. To commemorate their swearing-in, the volunteers had a full Thanksgiving dinner at the home of the Peace Corps Country Director. On Wednesday, the new volunteers will depart for their local host communities. For the actual Thanksgiving holiday, many of the new volunteers will enjoy Thanksgiving dinner with staff from the U.S. Embassy.
Tanzania
On Wednesday, Nov. 24, the U.S. Ambassador to Tanzania Alfonso Lenhardt will host the new group of 38 Peace Corps volunteers at a pre-Thanksgiving dinner at his residence. The Peace Corps in Tanzania will provide the catered dinner, while the Ambassador and his wife will make cranberry sauce, stuffing, corn pudding, and apple pie.
About the Peace Corps:
President John F. Kennedy established the Peace Corps on March 1, 1961 by executive order. Peace Corps will commemorate 50 years of promoting peace and friendship around the world through 2011. Historically, more than 200,000 Americans have served with the Peace Corps to promote a better understanding between Americans and the people of 139 host countries. Today, 8,655 volunteers are working with local communities in 77 host countries. Peace Corps volunteers must be U.S. citizens and at least 18 years of age. Peace Corps service is a 27-month commitment.
# # #
---