FOR IMMEDIATE RELEASE:
Thursday, June 27, 2013
Nearly 170 Americans Sworn In as Peace Corps Volunteers in June
WASHINGTON, D.C., June 27, 2013 – Over the last month, nearly 170 Americans have been sworn into service as Peace Corps volunteers in the countries of Albania, Azerbaijan, Costa Rica, Indonesia and Kyrgyzstan.

Each new volunteer has undergone three months of intensive cultural, language and technical training in their country of service prior to leaving for their assigned Peace Corps site in a local community, where they will live and work for the next two years.
The Peace Corps recruits, places and trains Americans for volunteer service in 76 host countries around the world. Volunteers work to make a difference in their communities across six program areas: education, health, community economic development, environment, youth in development, and agriculture.

Below find highlights from swearing-in ceremonies that took place between May 30 and June 17.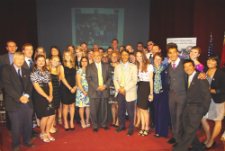 Albania
On May 30, 34 new volunteers were sworn-in in Elbasan, Albania. These new volunteers will work in health, education, and youth and community development. The ceremony was attended by U.S. Ambassador to Albania, Alexander Arvizu and Qazim Sejdini, the mayor of Elbasan.
Azerbaijan
On June 14, 27 new Peace Corps volunteers were sworn-in in a ceremony in Baku, Azerbaijan that coincided with the commemoration of the tenth anniversary of the Peace Corps in Azerbaijan. The event was attended by U.S. Ambassador to Azerbaijan Richard Morningstar.
The new Peace Corps volunteers will work across 21 regions of the country, applying their knowledge, skills and experience to the development of Azerbaijani communities and organizations. Seven volunteers will work in community economic development; eight will work in youth development, and 12 will work in English education.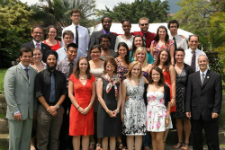 Costa Rica
On June 5, 20 new volunteers were sworn-in at the San Jose residence of U.S. Ambassador to Costa Rica Anne Slaughter Andrew. The ceremony was also attended by U.S. Embassy Chargé d'Affaires Eric Nelson (Liberia, 1983-1985) and members of Peace Corps staff. The volunteers will work in English education throughout the country. In this capacity, they will collaborate with Costa Rican teachers to improve and promote the teaching of English, as well as facilitate cultural exchange between Costa Rica and the United States.
Indonesia
In Indonesia on June 17, 50 new English education volunteers were sworn-in at the University of Muhammadiyah Malang (UMM) in Malang, East Java. The ceremony was attended by U.S. Ambassador to Indonesia Scot Marciel. The volunteers will serve as English teachers and teacher trainers at schools throughout East and West Java. Twenty members of the group are headed to West Java and will be the first Peace Corps volunteers in the province.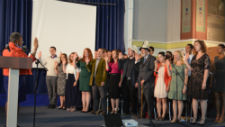 Kyrgyzstan
On June 11, U.S. Ambassador to Kyrgyzstan Pamela L. Spratlen swore-in a group of 38 new volunteers at the American University of Central Asia in Bishkek, Kyrgyzstan. Sixteen of the volunteers will serve as education volunteers, primarily teaching English at local schools and universities. Ten volunteers will serve as sustainable community development volunteers to build the capacity of area non-governmental organizations. The remaining 12 volunteers will serve as health education volunteers, working with Kyrgyz Health Promotion Units in local communities.
About the Peace Corps: Since President John F. Kennedy established the Peace Corps by executive order on March 1, 1961, more than 210,000 Americans have served in 139 host countries. Today, 8,073 volunteers are working with local communities in 76 host countries in agriculture, community economic development, education, environment, health and youth in development. Peace Corps volunteers must be U.S. citizens and at least 18 years of age. Peace Corps service is a 27-month commitment and the agency's mission is to promote world peace and friendship and a better understanding between Americans and people of other countries. Visit www.peacecorps.gov for more information.
# # #
---