FOR IMMEDIATE RELEASE:
Thursday, July 22, 2010
Malawi President Bingu wa Mutharika Honors the Work of Peace Corps Volunteers and Staff at Malawi State House
WASHINGTON, D.C. On July 21, President Bingu wa Mutharika praised the work of Peace Corps/Malawi volunteers and staff at a luncheon held at the New State House in Lilongwe, Malawi.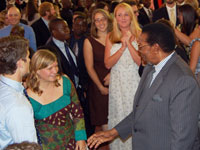 Over 90 Peace Corps volunteers and staff attended the celebration that included dancing with President Mutharika and other honored guests. In a speech delivered to the attendees, President Murtharika said that Peace Corps volunteers work has been a positive influence on the lives of Malawians and expressed his governments appreciation and continued support for Peace Corps efforts. He called for more volunteers to expand Peace Corps sustainable impact in the country and thanked the United States government for its continued commitment.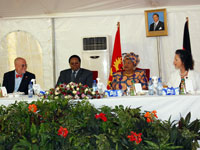 Your Excellency, it is our great honor to be here today we thank you from the bottom of our hearts, said Peace Corps/Malawi Country Director Victor K. Barbiero at the event. We feel that the Peace Corps plays a very important role in Malawi because our volunteers work directly in local communities. These communities the people of Malawi are the true catalysts of progress. Todays event demonstrates the support of the government and people of Malawi and the warm welcome Peace Corps has enjoyed here for over 47 years.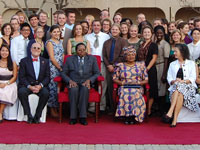 Over 2,300 Peace Corps volunteers have served in Malawi since the program was established in 1963. Volunteers in this southern African nation work in the areas of education, environmental and agricultural conservation, and health and HIV/AIDS awareness. Many volunteers working on HIV/AIDS prevention and care receive support from the U.S. Presidents Emergency Plan for AIDS Relief (PEPFAR) program. Currently, 147 volunteers are serving in Malawi.
As Peace Corps approaches its 50th anniversary, its service legacy continues to promote peace and friendship around the world, with 7,671 volunteers serving in 77 host countries. Historically, nearly 200,000 Americans have served with the Peace Corps to promote a better understanding between Americans and the people of 139 host countries. Peace Corps volunteers must be U.S. citizens and at least 18 years of age. Peace Corps service is a 27-month commitment.
# # #
# # #
---