FOR IMMEDIATE RELEASE:
Wednesday, February 23, 2011
Macedonia Welcomes First Peace Corps Response Volunteer
WASHINGTON, D.C., Feb. 23, 2011 Peace Corps/Macedonia welcomed its first Peace Corps Response volunteer last week.
Erika Steiger of Calabasas, Calif., will work at the regional office of the Macedonian Bureau of Education as a TEFL (teaching English as a foreign language) teacher trainer and will help update the national English language curriculum.
Steiger served as a Peace Corps volunteer in western Macedonia from 2005 to 2008, working at Mirko Mileski Secondary School as an English language teacher.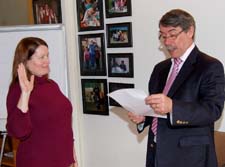 Peace Corps Response provides opportunities for returned Peace Corps volunteers to undertake short-term, high-impact assignments in various programs around the world. Volunteers have the opportunity to serve again by utilizing their skills and experience in places where they are needed the most.
Nearly 430 Peace Corps volunteers have served in Macedonia since the program was established in 1996. Volunteers in this Balkan nation work in the areas of English education and community and municipal development. Currently, 103 volunteers are serving in Macedonia. Volunteers are trained and work in Albanian and Macedonian.
About the Peace Corps:
President John F. Kennedy established the Peace Corps on March 1, 1961, by executive order. Throughout 2011, Peace Corps is commemorating 50 years of promoting peace and friendship around the world. Historically, more than 200,000 Americans have served with the Peace Corps to promote a better understanding between Americans and the people of 139 host countries. Today, 8,655 volunteers are working with local communities in 77 host countries. Peace Corps volunteers must be U.S. citizens and at least 18 years of age. Peace Corps service is a 27-month commitment. Visit www.peacecorps.gov for more information.
# # #
---