FOR IMMEDIATE RELEASE:
Wednesday, April 10, 2019
King of Lesotho: Peace Corps volunteers 'putting people first'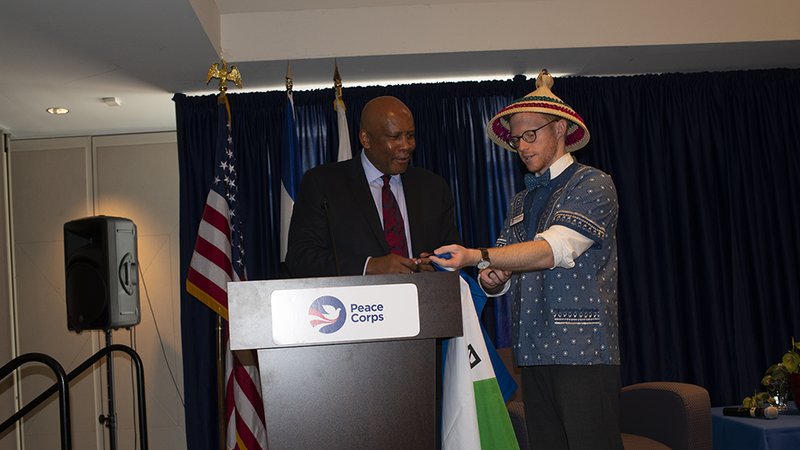 WASHINGTON – His Majesty King Letsie III of the Kingdom of Lesotho delivered remarks at Peace Corps headquarters today, expressing his gratitude for the efforts of Peace Corps volunteers to improve the quality of life in their host communities and build mutual understanding between Americans and the people of Lesotho.
His Majesty praised the Peace Corps' approach to development, placing volunteers in villages around Lesotho for two years of service.
"This approach is one of putting people first that emphasizes the needs of the country and the need to learn about and respect the culture of the people," said King Letsie III, who is the first guest invited to speak at the 2019 edition of the Peace Corps' Loret Miller Ruppe Speakers Series. "The volunteers are always eager to immerse themselves in the culture of the Basotho people, often taking a Basotho name and learning the language. This knowledge can only contribute to greater mutual understanding and global peace."
His Majesty is known for being an advocate for development, and has committed to firmly place nutrition and food security on both the African and global agenda. While at Peace Corps, he spoke of his interest in developing human capital—a population's skills, education and capacity—throughout Africa.
In his remarks, King Letsie III noted that Peace Corps volunteers are also working to combat food insecurity in his home country: "They are helping unlock the full potential of children who would otherwise be denied that by malnutrition."
During a Q&A following the king's address, Director Jody Olsen asked what Peace Corps volunteers bring back from their service.
"They know the culture, language and history of our people," said King Letsie III, a longtime friend of the returned volunteer who founded the Lesotho Nutrition Initiative at Wittenberg University in Ohio. "When they come back to the U.S., they are great ambassadors for Lesotho. They understand the challenges we face and often on their return they band together to help Basotho overcome those challenges."
King Letsie III was joined at Peace Corps headquarters by several officials from the government of Lesotho, including Minister of Foreign Affairs and International Relations Lesego Makgothi, Minister of Planning Tlohelang Aumane, and Ambassador to the U.S. Gabriel Sankatana, a former instructor with the Peace Corps Lesotho staff.
Also in attendance were Mary Ruppe Nash and Adele Ruppe, daughters of Loret Miller Ruppe.
The Loret Miller Ruppe Speakers Series honors the agency's longest serving director and is a forum for world leaders to speak about issues related to the Peace Corps' mission, including volunteerism, public service, and international peace and development.
# # #
About the Peace Corps: The Peace Corps sends Americans with a passion for service abroad on behalf of the United States to work with communities and create lasting change. Volunteers develop sustainable solutions to address challenges in education, health, community economic development, agriculture, the environment and youth development. Through their Peace Corps experience, volunteers gain a unique cultural understanding and a life-long commitment to service that positions them to succeed in today's global economy. Since President John F. Kennedy established the Peace Corps in 1961, more than 235,000 Americans of all ages have served in 141 countries worldwide. For more information, visit peacecorps.gov and follow us on Facebook, Instagram and Twitter.
---