FOR IMMEDIATE RELEASE:
Thursday, June 19, 2008
Kenyan Prime Minister Visits Peace Corps
The Honorable Raila Amolo Odinga Speaks at the Loret Miller Ruppe Speaker Series
WASHINGTON, D.C., June 19, 2008 - Peace Corps Director Ronald A. Tschetter today welcomed the newly-appointed Prime Minister of Kenya, Raila Amolo Odinga, to address the Peace Corps staff as part of the Loret Miller Ruppe Speakers Series. The series is a forum for distinguished individuals to speak about issues related to the Peace Corps\' mission, such as volunteerism, international peace and development, and public service.
In attendance were Michael E. Ranneberger, U.S. Ambassador to Kenya, Peter Nicholas Rateng\' Oginga Ogego, Ambassador of Kenya to the U.S., Yusuf Haji, Minister for Defense of Kenya, Chirau Ali Mwakwere, Minister of Transport of Kenya, and Omingo Magara, Assistant Minister of Trade of Kenya. Former Peace Corps Volunteers, many of whom had recently returned from service in Kenya, were also present at the event.
The Prime Minister reaffirmed the Kenyan government\'s partnership with the Peace Corps, and joined in celebrating the return of Volunteers to his country. "Kenya has developed immensely because of the Peace Corps," said Prime Minister Odinga. "I see the Peace Corps as part of a bigger cooperation between Kenya and the United States. The Peace Corps has united the American people with the people of Kenya. I have had the opportunity to meet some Peace Corps Volunteers…they work with a lot of dedication."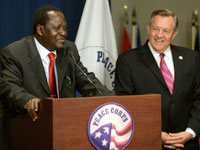 Said Peace Corps Director Tschetter of the recent return of Volunteers to Kenya, "I am delighted to say that 24 Volunteers arrived in Kenya last week, and they are already back at work. This November, over 40 new Volunteers will arrive in Kenya, and we are working to have the program back up to capacity as quickly as we can."
Prime Minister Odinga also spoke about the unrest in Kenya following elections in December of 2007, and how the Kenyan people are now working together to move the country forward. "I want to extend a message of hope and welcome," he said. "We deeply express our thanks to the United States for the assistance that they have given us. By getting involved they have demonstrated that they are really true friends. We are ready for business again, Kenya is safe once again."
Since 1965, more than 5,000 Peace Corps Volunteers have served in Kenya. Volunteers have worked in the areas of education, small business development, deaf education, health and HIV/AIDS prevention. The group of 24 Volunteers who returned to the country on June 10 will be working in public health, small enterprise development, information and communication technology and education in the coastal, eastern and central areas of the country. Included in this group of outstanding experienced Volunteers are four specialists who will teach at deaf primary schools.
The deaf education program in Kenya is a flagship effort within the Peace Corps. Launched in 1992, it was initially aimed at training educators on better teaching methods and broadening the production of learning materials and facilities for deaf and hard of hearing students. The program now includes computer training, and health and HIV/AIDS education programs, as part of the President\'s Emergency Plan for Aids Relief.
To learn more about the Peace Corps/Kenya, visit the
Where Do Volunteers Go?
web page.
The Peace Corps is celebrating a 47-year legacy of service at home and abroad. Currently there are 8,000 Volunteers abroad, a 37-year high for Volunteers in the field. Since 1961, more than 190,000 Volunteers have helped promote a better understanding between Americans and the people of the 139 countries where Volunteers have served, including Kenya. Peace Corps Volunteers must be U.S. citizens and at least 18 years of age. Peace Corps service is a 27-month commitment. To learn more about the Peace Corps, please visit our website: www.peacecorps.gov.
# # #
# # #
---