FOR IMMEDIATE RELEASE:
Monday, May 9, 2011
Joe Kennedy III Honors New England Peace Corps Volunteers in Cambridge
BOSTON, May 9, 2011 Returned Peace Corps volunteer Joe Kennedy III (Dominican Republic, 2004-2006), whose great uncle, President John F. Kennedy, founded the Peace Corps in 1961, honored 27 newly returned Peace Corps volunteers and 40 New England area residents about to depart for Peace Corps service during a ceremony in Cambridge, Mass. on
May 6, 2011
. Peace Corps New England Regional Manger Erin Mone-Marquez (Costa Rica 1994-1997) and members of the Boston Area Returned Peace Corps Volunteer association also spoke at the ceremony.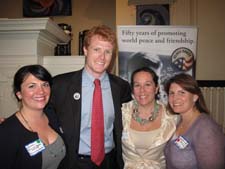 There is not a day now that I dont draw on some of the experiences I had in the Dominican Republic. This is an opportunity, but its what you make of it. Figure out what your strengths are and the needs of the community. When in doubt, laugh. I laughed a lot, and I loved my Peace Corps experience, Kennedy told the audience.
As a member of the Kennedy family, Joe Kennedy symbolizes the Peace Corps legacy of global service and our mission of promoting world peace and friendship. At the same time, having recently served as a volunteer in the Dominican Republic, Joe knows first-hand the rewards and challenges of overseas service, said Mone-Marquez.
The New England residents about to depart for Peace Corps service will serve in 14 different countries around the world. For the first three months of service, the volunteers will live with a host family to learn the local language and culture before moving to a permanent work site. Each volunteer will work in the area of agriculture, business and information technology, education, environment, health and HIV/AIDS, or youth development.
After the completion of two years of Peace Corps service, returned volunteers receive one year of noncompetitive eligibility for employment in the federal government. The Peace Corps also provides graduate school opportunities, scholarships, assistantships, academic credits, and stipends through the
Masters International and Fellows/USA
program.
Massachusetts is currently ranked as the 12th highest volunteer-producing state in the nation, and 11th in the nation on a per-capita basis. Since 1961, Massachusetts has produced more than 7,691 Peace Corps volunteers. In addition, 212 currently-serving Peace Corps volunteers are from the Boston-Cambridge-Quincy area, making it the number five Peace Corps volunteering producing metro in the nation.
About the Peace Corps:
President John F. Kennedy established the Peace Corps on March 1, 1961, by executive order. Throughout 2011, Peace Corps is commemorating 50 years of promoting peace and friendship around the world. Historically, more than 200,000 Americans have served with the Peace Corps to promote a better understanding between Americans and the people of 139 host countries. Today, 8,655 volunteers are working with local communities in 77 host countries. Peace Corps volunteers must be U.S. citizens and at least 18 years of age. Peace Corps service is a 27-month commitment. Visit www.peacecorps.gov for more information.
# # #
---