FOR IMMEDIATE RELEASE:
Thursday, May 15, 2014
International Day of Families: Peace Corps Service a Tradition for Washington State Family
WASHINGTON, D.C., May 15, 2014 – In honor of the International Day of Families and the 20th anniversary of the International Year of the Family, the Peace Corps celebrates the impact Peace Corps volunteers and their families have on global development. First proclaimed by the United Nations General Assembly in 1993, the International Day of Families is observed each year on May 15 to promote awareness of the social, economic and demographic processes affecting families. Below find the story of one Washington State family with a tradition of giving back through Peace Corps service.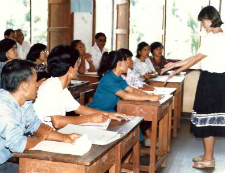 Peace Corps volunteer Cailyn Torpie of Seattle is currently serving as a Youth in Development volunteer in Thailand – the same country where her parents met during their Peace Corps service nearly 30 years ago. Serving in the Peace Corps has become a family tradition for the Torpie family. Cailyn's older sister, Ryan, also served as a Youth in Development volunteer in Mali from 2010-2012.
"Both girls grew up listening to stories and asking questions of the joys and the challenges we each experienced while living and working abroad," Cailyn's mother, Ann, said.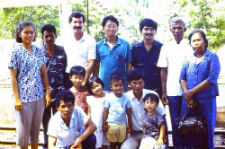 While their parents didn't expect them to join the Peace Corps, they encouraged Cailyn and Ryan to travel abroad during their junior year of college. Cailyn studied economics in Bolzano, Italy, and Ryan studied international relations in Paris.
"Once they survived those learning adventures, perhaps it was not a far leap for them to envision the more challenging – and more rewarding – Peace Corps' experience," Ann said.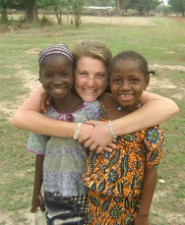 Ann and Cailyn's father, Scott, met during their Peace Corps service in Thailand. Ann was in pre-service training to be an education volunteer when she met Scott, who served as a water resources engineer from 1982-1985. Cailyn's placement in Thailand came as a welcome surprise.
"The true glory is that Cailyn also gets to deeply know and fall in love with the Thai people, their culture and their country," Scott said. "Having a prolonged and meaningful experience within another culture is something all four of us can appreciate and share."
On a recent trip to Thailand, Cailyn's parents visited her community and reconnected with old friends and co-workers from their service decades earlier.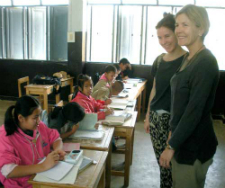 "Getting to know the people behind the names in my parents' stories and observing the lasting impact of friendship my mother and father have with these people was an incredibly moving and special experience for me," Cailyn said. "For my entire life, Thailand was always my parents' country – the place they met and fell in love; the place that gave rise to their careers. In sharing my community with them, it became clear to me that Thailand is and will be my country as well, and the fact that my parents served here only deepens and fortifies the place Thailand has in my heart."
About Peace Corps/Thailand: There are currently 84 volunteers in Thailand working in the areas of education and youth development. During their service in Thailand, volunteers learn to speak the local language of Thai. More than 5,145 Peace Corps volunteers have served in Thailand since the program was established in 1962.
About the Peace Corps: As the preeminent international service organization of the United States, the Peace Corps sends Americans abroad to tackle the most pressing needs of people around the world. Peace Corps volunteers work at the grassroots level with local governments, schools, communities, small businesses and entrepreneurs to develop sustainable solutions that address challenges in education, health, economic development, agriculture, environment and youth development. When they return home, volunteers bring their knowledge and experiences – and a global outlook – back to the United States that enriches the lives of those around them. President John F. Kennedy established the Peace Corps in 1961 to foster a better understanding among Americans and people of other countries. Since then, more than 215,000 Americans of all ages have served in 139 countries worldwide. Visit www.peacecorps.gov to learn more.
# # #
---