FOR IMMEDIATE RELEASE:
Monday, June 5, 2006
In Predominately Muslim Area, Peace Corps Volunteer Overcomes HIV/AIDS Related Taboos
WASHINGTON, D.C., June 5, 2006 It is common for Peace Corps volunteers to face cultural differences at their site, but in a society where women wear body veils known as
adels
, are poor, marry by arrangement, and are mainly illiterate, those cultural differences can be especially daunting when attempting to educate people about HIV/AIDS.
Jamie Pilarczyk of Temple Terrace, Fla., has been serving in a small, predominantly Muslim Moroccan village where the women deal with these cultural differences on a daily basis. Yet, despite the difficulties, Pilarczyk has pushed on with her assignment that includes promoting dental hygiene and breast cancer awareness, in addition to HIV/AIDS education. "As a woman volunteer, I have to be careful how I talk about HIV/AIDS, since it is still a sort of taboo subject. It is assumed that everyone is a virgin at marriage and remains faithful during the marriage. The truth is that many men are sexually active far before marriage and often not faithful afterwards. I know AIDS could become a serious problem here without education."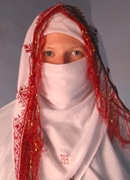 Wearing the veil: Pilarczyk in Morocco
During the twice-yearly festivals in the village market, Pilarczyk has passed out HIV/AIDS brochures in Arabic that include pictures for the illiterate as well as red ribbons. "This was the extent of how I could talk about it with the men. I went to a few individuals to explain the brochure, but their obvious uncomfortable reaction made me realize that education would be more effective with these men if it were to come from the male doctor."
HIV/AIDS education and awareness is new to her host village. In a place where it is difficult for women to discuss sexual relations with men, HIV/AIDS prevention is an uncommon topic of conversation. Besides talking to people at the festivals, Pilarczyk has made other attempts at HIV/AIDS education by hosting educational programs and then having the doctor or female nurse address the crowd. Through trial and error, she has learned that any seminars or outreach must be conducted by a person of the same sex as the audience.
A local health clinic doctor began an HIV/AIDS program in December 2004, and Pilarczyk has been able to work with him to expand the program to students in the village. Pilarczyk has learned that children age 15 and under are an ideal group to target. While it may seem young, many students do not continue formal education past this age, and thus, would receive no HIV/AIDS education otherwise. Coupled with the fact that the closest high school is 26 kilometers down a mountain, outreach needs to begin as early as possible to reach a large audience. "These are the same students that leave their families and go find work in larger cities like Agadir, Tiznit and Casablanca. These are the students that need the education the most, to alter the choices they make, to give them the tools to make better decisions to keep them healthy."
Pilarczyk has also helped organize a Girls Empowerment Day at the local high school and participated in a Women and Childrens Festival, which included HIV/AIDS education for the students and women. In addition, she recently applied to the U.S. Ambassador\'s Fund for money to start a Health Club with the goal to raise the HIV/AIDS awareness in her host village. "The objectives are to reduce the sexually transmitted disease rate and increase the residents knowledge of HIV/AIDS and STDs with education through computers, videos, and peer-to-peer instructive dialogue."
Despite cultural differences and the taboo about sexual discussions in her community, Pilarczyk has also reached out to women in her village on a one-on-one basis with success. In fact, she mentions her work with these women as the most rewarding aspect of her Peace Corps experience.
Through hard work and creative methods, Pilarczyk has reached an aud her Peace Corps experience.
Through hard work and creative methods, Pilarczyk has reached an audience generally ignored in the past. With her service ending this June, Pilarczyk feels she has achieved her goals relating to HIV/AIDS education and awareness in her Moroccan village.
Morocco has a 42-year history with the Peace Corps, which enjoys the support of the government and the Moroccan people. Currently, 190 Peace Corps Volunteers are serving in Morocco, which is one of five predominately Muslim countries that the Peace Corps either entered or reentered since 2003. Today, 20 percent of all Peace Corps volunteers serve in predominately Muslim countries. To learn more about Morocco, please visit the
Where Do Volunteers Go?
section.
The Peace Corps is celebrating a 45-year legacy of service at home and abroad, and a 30-year high for volunteers in the field. Since 1961, more than 182,000 volunteers have helped promote a better understanding between Americans and the people of the 138 countries where volunteers have served. Peace Corps volunteers must be U.S. citizens and at least 18 years of age. Peace Corps service is a 27-month commitment.
# # #
---