FOR IMMEDIATE RELEASE:
Thursday, February 24, 2011
Hundreds of Returned Peace Corps Volunteers Participate in Career Conference in Washington, D.C.
Washington, D.C., February 24, 2011 The Peace Corps is hosting a career conference for returned Peace Corps volunteers (RPCVs) this week (February 22-25) at the Paul D. Coverdell Peace Corps Headquarters. Nearly 300 RPCVs are participating in sessions and interactive workshops on interviewing, resume writing, and networking.
Volunteers in attendance are from the Greater Washington area and from 40 states, including California and Alaska. One of the highlights of the four-day event is the Peace Corps Career Fair on Thursday, February 24. Fifty prospective employers will speak with the participants. This includes organizations from the federal government, nonprofit, and private sectors.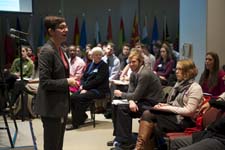 Fluency in foreign languages, international experience, and cross-cultural understanding are highly-sought after assets. Whether you are just out of college or mid-career, the new skills learned through Peace Corps can help you achieve long-term career goals, said Peace Corps Director Aaron S. Williams. The Peace Corps Career Fair is an excellent opportunity for employers to identify and hire dedicated, skilled, and innovative individuals who will be valuable additions to their organizations.
The Peace Corps assists returned volunteers in finding jobs following their service by: hosting
career conferences
and related events across the country throughout the year; publishing an online newsletter with job announcements, graduate school information, and career related articles; and helping returned volunteers translate their field experience for prospective employers. Volunteers who complete two years of service receive one year of noncompetitive eligibility for employment in the federal government.
The Peace Corps also provides graduate school opportunities. Scholarships, assistantships, academic credits, and stipends are available from participating schools for
Masters International and Fellows/USA
students.
About the Peace Corps:
President John F. Kennedy established the Peace Corps on March 1, 1961, by executive order. Throughout 2011, Peace Corps is commemorating 50 years of promoting peace and friendship around the world. Historically, more than 200,000 Americans have served with the Peace Corps to promote a better understanding between Americans and the people of 139 host countries. Today, 8,655 volunteers are working with local communities in 77 host countries. Peace Corps volunteers must be U.S. citizens and at least 18 years of age. Peace Corps service is a 27-month commitment. Visit www.peacecorps.gov for more information.
# # #
---