FOR IMMEDIATE RELEASE:
Thursday, September 20, 2012
Hundreds of Peace Corps Volunteers, Staff, Friends and Family Enjoy Peace Corps Night at Nationals Park
Hundreds of returned Peace Corps volunteers (RPCVs), friends and family gathered at 7 p.m. on Wednesday, September 19, to celebrate Peace Corps Night at Nationals Park. A procession of 137 RPCVs, staff, friends and family participated in the Parade of Nations, carrying the flags of current and former Peace Corps host countries and honoring the work the more than 200,000 Peace Corps volunteers who have served in the agency's 51-year history.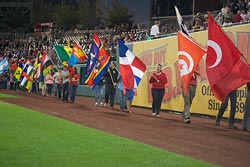 The Nationals welcomed the Peace Corps at its second game of a double header against the Dodgers after thunderstorms delayed the Tuesday night game.
Liliana Richter, an RPCV who served in El Salvador from 2007 to 2010, opened the game with the national anthem, followed by the colorful Parade of Nations. Peace Corps Chief of Staff Stacy Rhodes tossed out the first pitch to the Nationals mascot, bald eagle Screech. But the game did not start until Senior Advisor Carl Sosebee shouted "play ball."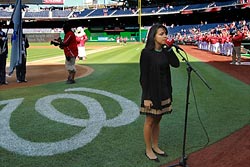 The Nationals beat the Dodgers 3-1 in the double header's first game, but lost the second game 7-6 after scoring an impressive six runs in the eighth inning.
About the Peace Corps: President John F. Kennedy established the Peace Corps on March 1, 1961, by executive order. Throughout 2011, Peace Corps is commemorating 50 years of promoting peace and friendship around the world. Historically, more than 200,000 Americans have served with the Peace Corps to promote a better understanding between Americans and the people of 139 host countries. Today, 8,655 volunteers are working with local communities in 76 host countries. Peace Corps volunteers must be U.S. citizens and at least 18 years of age. Peace Corps service is a 27-month commitment. Visit www.peacecorps.gov for more information.
# # #
---