FOR IMMEDIATE RELEASE:
Monday, August 26, 2013
Game Day Brings Peace Corps Volunteers, Students and Community Members Together in Armenia
Washington, D.C., August 27, 2013 – Peace Corps volunteers Ben Auch of Greeley, Colo., Catherine Cohen of Afton, Minn., Jim Daly of San Diego, Calif., Cynthia Ford of Klamath Falls, Ore., Sheree Jackson of Camas, Wash., Melissa Karapostoles of Sequim, Wash., and Pamela Watkins of Los Angeles, Calif., recently organized a game day at the local school in their Armenian community to encourage interaction and relationship building among students, community members and Peace Corps volunteers.
The volunteers worked with community members and school staff to develop the idea for the game day, which included volleyball, soccer and board games. A portion of funding for the activities and equipment were raised through the Peace Corps Partnership Program (PCPP), which helps support Peace Corps volunteer community projects worldwide.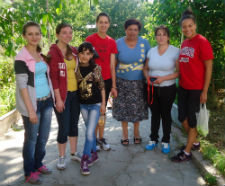 "We thought the game day would be a great way for us to get to know the students, as well as their parents and friends, while having fun at the same time," Daly said. "The students love sports and like to wear shirts representing their favorite teams to class."
Daly was at first worried that students would not be interested in participating, but he found that many were eager to join the games and activities.
"Initially, only a few students arrived so we started a casual game of volleyball. As soon as we started, kids began appearing out of nowhere," Daly said.
Board games like Scrabble were also on hand, and Watkins, along with two of the school's English teachers, assisted players in translating words from the games.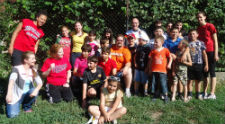 "We have a wonderful group of talented volunteers in Armenia," Daly said. We're committed to our service and are integrating successfully into our Armenian communities through these types of bonding activities. We had a wonderful day building relationships with our neighbors."
To receive funding through the PCPP, a community must make a 25 percent contribution to the total project cost and outline success indicators for each project. This helps to ensure community ownership and a greater chance of long-term sustainability.
About Peace Corps/Armenia: More than 830 Peace Corps volunteers have served in Armenia since the program was established in 1992. Currently, 86 volunteers serve in Armenia. Volunteers work in the areas of community and youth development, and English education. Volunteers are trained and work in Armenian.
About the Peace Corps: Since President John F. Kennedy established the Peace Corps by executive order on March 1, 1961, more than 210,000 Americans have served in 139 host countries. Today, 8,073 volunteers are working with local communities in 76 host countries in agriculture, community economic development, education, environment, health and youth in development. Peace Corps volunteers must be U.S. citizens and at least 18 years of age. Peace Corps service is a 27-month commitment and the agency's mission is to promote world peace and friendship and a better understanding between Americans and people of other countries. Visit www.peacecorps.gov for more information.
# # #
# # #
---