FOR IMMEDIATE RELEASE:
Wednesday, April 26, 2006
From Ecuador to Colorado, Peace Corps Couple's Shared Experience Bonds Them for Life
In celebration of the 45th anniversary, this is part of a series featuring Peace Corps couples.
WASHINGTON, D.C., April 26, 2006 When sparks began to fly almost from day one of their Peace Corps service in 1981, Mark Jackson and Michelle Myers, now of Loveland, Colo., needed to keep their true feelings under wraps. After all, they were about to embark on a two-year journey in Ecuador with 60 other volunteers and they had no idea what their proximity to each other would be.
However, their relationship blossomed, as they found ways to balance their commitment to their assignments and to their feelings. Building a relationship was not an easy task for Michelle and Mark, but they found opportunities to spend time together every 4-6 weeks despite the five hours of distance between them, mostly due to their shared field as agro-forestry volunteers. Mark worked at the National Forestry School, so Michelle had reasons to visit for her work. Additionally, Mark lived right outside of Quito, the capital city where the Peace Corps office is located, so opportunities to see each other often arose during trips for meetings, Peace Corps business, or volunteer collaborations. They married in 1984, after Michelle completed an additional year of Peace Corps service in Haiti.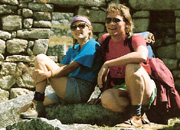 Newlyweds: Mark Jackson and Michelle Myers hiking in Machu Pichu, Peru shortly after their marriage
"A lot of our relationship was based around the volunteer work we did. I really believe this was beneficial to our relationship. I think our relationship was, and is, very strong due to our mutual belief in service to our community, wherever we happen to be residing," said Michelle.
The opportunity to work with other volunteers arose frequently and presented additional time together, as Michelle and Mark would often travel to a fellow volunteer\'s site to help initiate a new project. Michelle said they also had opportunities for cross discipline projects where, for example, a volunteer dealing with livestock, a health volunteer, and a forestry volunteer would travel to remote locations and perform satellite workshops or presentations.
"We also were very lucky to have a great associate Peace Corps country director. He understood the hardships, the loneliness of being a foreigner in a new country and he also understood the benefits of collaboration. I believe that made our forestry program stronger, more successful and the volunteers more satisfied with their service," she said.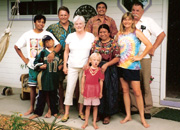 The bond continues: The couple recently hosted friends from Guatemala
Michelle attributes much of the couple\'s overall success to their common Peace Corps years. "This was such a positive event in both of our lives, and was a great way to meet a life partner. We had similar interests and it helps knowing this person is someone who would be up for a challenge and willing to take chances," Michelle said. "We\'ve learned that there\'s nothing we can\'t get through."
Building lasting friendships has also been a key ingredient in their lives. The couple remains in close contact with at least a dozen of the people with whom they served in the Peace Corps.
Seasonally, Michelle works for the forest service. She is also a family outreach liaison for the school district and a massage therapist. Mark is a bilingual elementary school psychologist, as well as the bilingual school psychologist for the entire school district. The couple has a 13-year old daughter and a 6-year old son, whom they adopted from Guatemala.
The Peace Corps first arrived in Ecuador in 1962, and since then, over 5,000 volunteers have served. In Ecuador, the Peace Corps is working to improve the lives of Ecuadorians with a variety of projects. Currently there ce Corps is working to improve the lives of Ecuadorians with a variety of projects. Currently there are more than 150 volunteers serving in Ecuador. Projects in the country include animal production, agriculture, health, natural resource conservation and youth development.
The Peace Corps is celebrating a 45-year legacy of service at home and abroad, and a 30-year high for volunteers in the field. Since 1961, more than 182,000 volunteers have helped promote a better understanding between Americans and the people of the 138 countries where volunteers have served. Peace Corps volunteers must be U.S. citizens and at least 18 years of age. Peace Corps service is a 27-month commitment.
# # #
---