FOR IMMEDIATE RELEASE:
Friday, June 9, 2006
From Africa to Asia, a Spirit of Service Binds a Peace Corps Family
In celebration of the 45th anniversary, this is the third in a series featuring Peace Corps legacy families.
WASHINGTON, D.C., June 9, 2006 Growing up in an Illinois farmhouse frequented by foreign exchange students and decorated with artifacts her parents had collected in Africa, Amelia Sparks, 33, always knew she wanted to experience other cultures firsthand.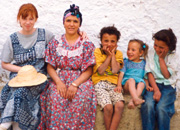 Amelia with her neighbors in Morocco
"I was raised with an awareness and appreciation for different cultures, Amelia, who served in Morocco from 1994-1996, said. My parents always strongly encouraged studying a foreign language and traveling abroad.
Not only did her parents encourage travel and volunteerism, they experienced it firsthand. From 1964 to 1966, Richard and Ruth Sparks served as Peace Corps volunteers in Nigeria. The couple met during their Peace Corps training in New York City, but the relationship developed once they arrived at their sites in Nigeria.
We met on the first day of training as Richard and another volunteer stood on the porch at Barnard College, greeting all the young women and offering to carry their bags. My response was: I can do it. A decade later, this was Amelia\'s first full sentence, said Ruth.
During their service in Nigeria, both Richard and Ruth, now 64 and 63 respectively, worked in the education sector, teaching science through experiments that could be done with materials purchased in local markets. While Ruth taught in a Catholic boys high school, Richard trained elementary school teachers at the Methodist Teachers Training College.
Richard and Ruth were among the first generation of Peace Corps volunteers influenced by John F. Kennedys vision. Richard was a junior at Amherst College in Massachusetts when President Kennedy spoke there in October 1963, and he remembers the powerful dedication Kennedy gave at the campus new Robert Frost Library.
Although this speech, and others Kennedy delivered, had a lasting impact on Richard, the memoriam that Amherst College President Dr. Calvin Plimpton gave after Kennedys death played an even bigger role: He spoke about how much he appreciated the focus of President Kennedy on the college, the poet, and the subject of the artist in society, as though nothing else were going on the world. There wasn\'t a dry eye in the packed chapel when President Plimpton finished. Then he said: Let us stand a moment in silence to honor him … then let us go and do the work he could not complete. I applied to the Peace Corps the next day.
Amelia said it was her parents influence that convinced her to join the Peace Corps immediately after college.
I was raised to believe that for everyone to whom much is given, of him shall much be required. For my parents, their inspiration came almost directly from Kennedy. For me, it was Maya Angelou who gave words to my motivation. During a presentation at our school, she told us that our tuition had been paid and that we needed to go out and pay the tuitions of others. I think I ended up using that quote in my Peace Corps application, she said.
Like many Peace Corps legacy families, Amelias parents could empathize with her as she faced the triumphs and challenges of her service. Both during her service and after, they frequently shared stories, comparing their assignments and discussing the ways that the Peace Corps had changed through the years.
They told me my experience was harder. They were given housing and household help, whereas I had to find my own housing, do my own cooking and cleaning and that kind of thing. I think their selection and training process was probably harder, or at the very least, less relevant. We had excellent culture and language instruction in-country whereas they did teacher training in New York City. It did not really teach them much n in-country whereas they did teacher training in New York City. It did not really teach them much about being in a Nigerian village, Amelia said.
The Sparks familys volunteerism did not end after Amelias Peace Corps service came to a close. Following her service as a health educator in Morocco, Amelia went to Sri Lanka as a Peace Corps Crisis Corps volunteer to assist with tsunami efforts in 2005. While there, she worked with the Consortium of Humanitarian Agencies, a local organization that was attempting to track, coordinate and give public accountings of the hundreds of organizations that had come into Sri Lanka to help after the tsunami. Amelia continues to be involved with the Peace Corps and currently works at the agencys headquarters in Washington, D.C.
Both Richard and Ruth Sparks continue to volunteer in their community and beyond. When the Biafran Civil war erupted in Nigeria about two years after their service ended, the couple lectured about the origins of the conflict and helped raise relief funds for the refugees.
I continue to do presentations and displays about Nigeria at schools and libraries, said Ruth. I have no trouble keeping the childrens attention when I walk into a classroom dressed in my traditional Nigerian dress, a parting gift from my students in Isuikwuato.
Amelia hopes she can influence others the way her parents influenced her. I am constantly encouraging people, because people will tell me that they thought about it or would have liked to have done it. I tell them it is never too late, that it is not just for single 22 year-olds. I would like to do Peace Corps again, but Id like to go as a married couple, because it would help to have a partner along to share day-to-day life.
The Peace Corps is celebrating a 45-year legacy of service at home and abroad, and a 30-year high for volunteers in the field. Since 1961, more than 182,000 volunteers have helped promote a better understanding between Americans and the people of the 138 countries where volunteers have served. Peace Corps volunteers must be U.S. citizens and at least 18 years of age. Peace Corps service is a 27-month commitment.
# # #
---