FOR IMMEDIATE RELEASE:
Friday, November 29, 2013
For World AIDS Day, Peace Corps Reinforces its Commitment to Achieving an AIDS-Free Generation
WASHINGTON, D.C., Nov. 29, 2013 – Peace Corps volunteers around the world are working to make a difference in the fight against HIV/AIDS alongside U. S. Government partners by working at the grassroots level to implement effective, sustainable programs that combat the disease. To commemorate World AIDS Day, the Peace Corps reinforces its commitment to achieving an AIDS-free generation by continuing key collaborations as an implementing partner of the President's Emergency Plan for AIDS Relief (PEPFAR) to save lives.
PEPFAR is the U.S. Government initiative to help save the lives of those suffering from HIV/AIDS around the world, and Peace Corps volunteers play a key role in advancing PEPFAR's mission through programs in approximately 60 posts worldwide. The Peace Corps trains all volunteers who serve in Africa, the Caribbean, Eastern Europe, and Central Asia to be advocates and educators of HIV/AIDS prevention and care. The language and cultural training that Peace Corps volunteers receive during their service uniquely positions them to play an essential role in the fight against HIV/AIDS. In 2012, one-third of all volunteers worldwide worked on HIV/AIDS with more than 90,000 service providers across 16,821 communities to improve community health and mitigate the effects of the disease. Read more about how the Peace Corps and PEPFAR work together here.
Recognized annually on December 1, World AIDS Day aims to raise awareness of the impact of HIV/AIDS, decrease stigma and discrimination of those living with the disease, and honor those we have lost. The theme for World AIDS Day 2013 is "Shared Responsibility – Strengthening Results for an AIDS-free Generation," reflecting the belief that we can achieve more when we invest and work together.
Below find examples of how Peace Corps volunteers in Ukraine and Ethiopia are raising awareness and working to prevent HIV/AIDS.
Ukraine
At yearly summer camps in Ukraine, Peace Corps volunteers work with local community members to educate youth and reduce stigma and discrimination surrounding HIV/AIDS.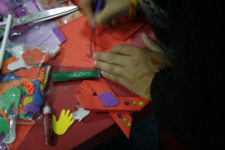 Camp HEAL – human trafficking, education, AIDS/HIV, leadership – is an English-language summer camp for Ukrainian youth focused on empowering Ukraine's future leaders. During the week-long camp, students learn about HIV/AIDS and how to design projects for their communities, take part in an anti-human trafficking campaign, practice teamwork and develop their leadership skills.
Camp OHALOW – overcoming HIV/AIDS and leading our world – is another week-long summer leadership camp specifically for HIV-positive children ages 9-15. The camp includes sessions by a licensed doctor and psychologist on the biological basics of HIV/AIDS, stigma and discrimination, sexual health and nutrition, and Peace Corps volunteers and Ukrainian staff lead sessions on leadership, project design and team building, as well as recreational activities like arts and crafts and sports. Camp OHALOW offers children a unique experience free of the stigma and discrimination that often affects HIV-positive children throughout the country.
"There are countless stories of how Camp OHALOW has inspired children to adhere to their medications, keep fighting through opportunistic infections and hospitalizations, and get help from local HIV/AIDS care providers to come back to camp the following summer," said Abby Anderson, a Peace Corps volunteer from Maple Grove, Minn., and one of the directors of Camp OHALOW. "If we can just reach one kid and encourage and provide continued care and support for them, our camp has been a success."
Ethiopia
In Ethiopia, a group of five Peace Corps volunteers recently completed an eight-day, 282-kilometer (175-mile) run across northern Ethiopia to raise awareness about HIV/AIDS and raise money for education efforts. Ben Morse, Ryan Plourde, Hannah Yang, Sally Kintner and Forrest Copeland planned the run and cumulatively clocked more than 1,170 kilometers for the cause.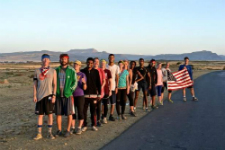 Throughout the run, the volunteers stopped at eight different Ethiopian communities to hold HIV/AIDS education sessions and Grassroot Soccer programs with the help of 19 fellow Peace Corps volunteers. Grassroot Soccer is a non-profit organization that uses the power of soccer to educate, inspire and empower communities to stop the spread of HIV. In total, more than 525 young people participated across the volunteers' eight stops.
For more information about the Peace Corps' work on HIV/AIDS, visit http://www.peacecorps.gov/learn/whatvol/hivaids/.
About the Peace Corps: As the preeminent international service organization of the United States, the Peace Corps sends Americans abroad to tackle the most pressing needs of people around the world. Peace Corps volunteers work at the grassroots level with local governments, schools, communities, small businesses and entrepreneurs to develop sustainable solutions that address challenges in education, health, economic development, agriculture, environment and youth development. When they return home, volunteers bring their knowledge and experiences – and a global outlook – back to the United States that enriches the lives of those around them. President John F. Kennedy established the Peace Corps in 1961 to foster a better understanding among Americans and people of other countries. Since then, more than 215,000 Americans of all ages have served in 139 countries worldwide. Visit www.peacecorps.gov to learn more.
# # #
---