FOR IMMEDIATE RELEASE:
Wednesday, December 18, 2013
For the Fourth Year in a Row, Peace Corps Named One of the Best Places to Work in the Federal Government
Among Small Agencies, Peace Corps Ranked No. 4 Overall and No. 1 in Support for Diversity
WASHINGTON, D.C., December 18, 2013 – Today the Peace Corps was named No. 4 overall among small agencies in the Partnership for Public Service's 2013 Best Places to Work in the Federal Government. The Peace Corps has been named among the top five small agencies to work at since it began participating in the rankings in 2010.
For the second year in a row, the Peace Corps was also recognized as the No. 1 small agency in Support for Diversity, which measures employees' belief that actions and policies of leadership and management promote and respect diversity. In total, 29 small agencies participated in the rankings this year.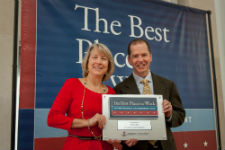 "I am so grateful to my fellow staff members for their dedication to the Peace Corps' mission and their unwavering support for our volunteers," Acting Director Carrie Hessler-Radelet said after accepting the agency's award Wednesday morning. "It is because of our staff's commitment that Peace Corps volunteers are making a real difference in the lives of people around the world. Serving as a member of the Peace Corps staff has been one of the great privileges of my life."
The Best Places to Work rankings, produced by the Partnership for Public Service and Deloitte, measure overall federal employee job satisfaction and commitment; critical elements in developing high-performing workplaces needed to meet our nation's challenges; and employee attitudes on a range of workplace categories, including satisfaction with pay, leadership, teamwork and strategic management. The rankings are based on data from the Office of Personnel Management's annual Federal Employee Viewpoint Survey and additional survey data from eight agencies as well as the Intelligence Community.
View the complete rankings at bestplacestowork.org.
About the Peace Corps: As the preeminent international service organization of the United States, the Peace Corps sends Americans abroad to tackle the most pressing needs of people around the world. Peace Corps volunteers work at the grassroots level with local governments, schools, communities, small businesses and entrepreneurs to develop sustainable solutions that address challenges in education, health, economic development, agriculture, environment and youth development. When they return home, volunteers bring their knowledge and experiences – and a global outlook – back to the United States that enriches the lives of those around them. President John F. Kennedy established the Peace Corps in 1961 to foster a better understanding among Americans and people of other countries. Since then, more than 215,000 Americans of all ages have served in 139 countries worldwide. Visit www.peacecorps.gov to learn more.
# # #
---