FOR IMMEDIATE RELEASE:
Tuesday, June 11, 2013
For Students Without Textbooks, Peace Corps Volunteer in Togo Helps Broaden Opportunity
Washington, D.C., June 11, 2013 - Peace Corps volunteer Jennifer Bent of Virginia Beach, Va., is working with her community in Togo to purchase new textbooks and chalkboards for the local school. In each classroom, the teacher has the only textbook because of limited resources.
"If you were to walk into my local school in Togo, you would see several classrooms crammed with 40 to 60 students meticulously copying down the teacher's note written on chalkboards that are in horrible disrepair," said Bent, a graduate of George Mason University who has been in Togo since 2011. "This project strives to create an ideal learning environment for the students."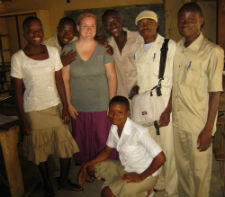 Bent and her community will buy English, math and science textbooks, as well as six new chalkboards for the school. Community members plan to purchase new desks and conduct a school-wide clean-up to make small improvements around the school building, such as planting mango trees.
A portion of the funds for Bent's project were raised through the Peace Corps Partnership Program (PCPP), which helps support Peace Corps volunteer community projects worldwide.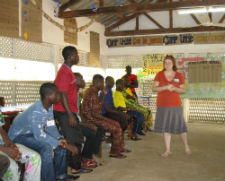 "This project will build the capacity of Togolese students to increase their knowledge and improve their chance of succeeding in school," Bent said. "These children are tomorrow's leaders, and my village is committed to giving them the best possible education."
About Peace Corps/Togo: More than 2,680 Peace Corps volunteers have served in Togo since the program was established in 1962. Currently, 118 volunteers serve in Togo. Volunteers work in the areas of education, environment, health, business, and information technology. Volunteers are trained and work in the following languages: Adja, Bassar, Ewe/Watchi, French, Gourma, Haoussa, Ifè (Ana), Kabiyé, Kotokoli, Mina, and Tchokossi (Anoufo).
About the Peace Corps: Since President John F. Kennedy established the Peace Corps by executive order on March 1, 1961, more than 210,000 Americans have served in 139 host countries. Today, 8,073 volunteers are working with local communities in 76 host countries in agriculture, community economic development, education, environment, health and youth in development. Peace Corps volunteers must be U.S. citizens and at least 18 years of age. Peace Corps service is a 27-month commitment and the agency's mission is to promote world peace and friendship and a better understanding between Americans and people of other countries. Visit www.peacecorps.gov for more information.
# # #
---