FOR IMMEDIATE RELEASE:
Monday, May 4, 2009
First Returned Peace Corps Volunteer in Space Speaks at Peace Corps
NASA astronaut Joseph Acaba presents acting director with Peace Corps flag flown in space
WASHINGTON, D.C., May 4, 2009 - On Friday, May 1, Peace Corps hosted Joseph Acaba, the first returned Peace Corps Volunteer to serve as a NASA astronaut. Acaba, who served as a Peace Corps Volunteer in the Dominican Republic (1994-96), presented Peace Corps acting Director Jody K. Olsen with a Peace Corps flag flown in space aboard the Space Shuttle Discovery.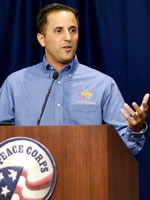 Acaba addressed Peace Corps Headquarters\' staff, as well as future and former Peace Corps Volunteers as part of the Loret Miller Ruppe Speakers Series. The series, which honors the Agency\'s longest serving director, is a forum for distinguished individuals to speak about issues related to the Peace Corps\' mission such as volunteerism, international peace and development, and public service.
Acaba cited his Peace Corps service as inspiration for his career as an Astronaut. Says Acaba, "Peace Corps has been a fantastic influence on my life. To those of you who are getting ready to go, best of luck. To those of who are Returned Volunteers, thanks for your service. And to all of you who support Peace Corps Volunteers around the world, you are doing a great service to your country."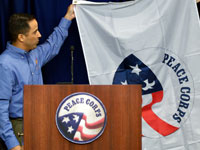 Acting Director Olsen, in accepting the Peace Corps flag flown aboard the Space Shuttle Discovery, commended Acaba. Olsen lauded, "You are a hero and a wonderful example of what service is to this nation."
Besides being the first returned Peace Corps Volunteer to serve as an astronaut, Acaba is the first person of Puerto Rican heritage to serve as an astronaut, and he proudly carried the flag of Puerto Rico with him in space, as well.
Acaba was named as a NASA astronaut candidate in May 2004. Nearly five years later, in March 2009, he performed a spacewalk as mission specialist educator aboard Space Shuttle Discovery\'s STS-119. His mission successfully delivered the final pair of power generating solar array wings and truss element to the International Space Station.
As the Peace Corps approaches its 50th anniversary, its service legacy continues to promote peace and friendship around the world. Historically, over 195,000 Volunteers have helped promote a better understanding between Americans and the people of the 139 countries in which they have served. Applications to serve in the Peace Corps have increased 16 percent this past year, the largest boost in the last five years. Currently, 7,876 Peace Corps Volunteers are serving in 76 countries. Peace Corps Volunteers must be U.S. citizens and at least 18 years of age. Peace Corps service is a 27-month commitment. To learn more about the Peace Corps, please visit our website:
www.peacecorps.gov
.
Since its inception in 1958, NASA has accomplished many great scientific and technological feats in air and space. NASA technology also has been adapted for many nonaerospace uses by the private sector. NASA remains a leading force in scientific research and in stimulating public interest in aerospace exploration, as well as science and technology in general. Perhaps more importantly, our exploration of space has taught us to view Earth, ourselves, and the universe in a new way. To learn more about NASA, please visit:
www.nasa.gov
.
# # #
# # #
---