FOR IMMEDIATE RELEASE:
Thursday, July 18, 2013
First Class of Peace Corps Global Health Service Partnership Volunteers Sworn In at the White House
Volunteers prepare to leave for one-year assignments working as medical or nursing educators in Tanzania, Malawi and Uganda
WASHINGTON, D.C. July 18, 2013 – Thirty U.S. doctors and nurses from across the country were sworn in at the White House today as the first class of Peace Corps Global Health Service Partnership volunteers. The new volunteers will leave this weekend for one-year assignments as medical or nursing educators in Tanzania, Malawi and Uganda, where they will work alongside local faculty to train the next generation of healthcare professionals.
"These volunteers will soon depart for a ground-breaking adventure – an opportunity to make a real difference in communities abroad while enhancing their own skills," Peace Corps Deputy Director Carrie Hessler-Radelet said. "The Global Health Service Partnership is an exciting continuation of the Peace Corps' commitment to global health."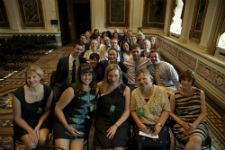 The Global Health Service Partnership – a collaboration of the Peace Corps, the President's Emergency Plan for AIDS Relief (PEPFAR), and the non-profit Seed Global Health – presents an opportunity for American physicians and nurses to make a real difference in communities abroad by helping to address the known shortage of skilled physicians, nurses and clinical faculty in resource-limited countries. This innovative public-private partnership represents the first organized effort by the Peace Corps to send U.S. healthcare professionals abroad with a focus on teaching and expanding clinical capacity.
"Whether these volunteers serve in Tanzania, Malawi or Uganda, their work will help strengthen the capacity of health professionals and the capacity of health systems," said Ambassador Eric P. Goosby, M.D., U.S. Global AIDS Coordinator. "Their contributions will help position partner countries to more effectively, efficiently, and sustainably address some of their greatest health challenges, including HIV/AIDS."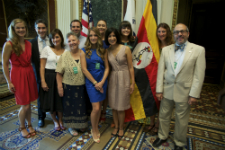 Sub-Saharan Africa has the greatest shortage of physicians and nurses; the region has 24 percent of the global burden of disease but only three percent of the world's health workforce. While the United States has 280 physicians and 980 nurses for every 100,000 people, countries in Sub-Saharan Africa, like Tanzania, have just one physician and 24 nurses for every 100,000 people.
"We're proud to be in this partnership that is sending an outstanding group of doctors and nurses abroad to help build a pipeline of medical professionals in the countries that need them most," said Vanessa Kerry, M.D., Chief Executive Officer of SEED Global Health. "This effort will help ensure that more well-trained doctors and nurses will be walking the wards and caring for patients in hospitals and clinics in Malawi, Tanzania and Uganda for years to come."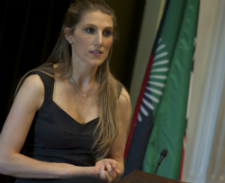 The inaugural group of Global Health Service Partnership volunteers comes from diverse backgrounds, with clinical experience extending from a few years to decades of experience. The doctors and nurses range in age from 26-70, include seven returned Peace Corps volunteers, and have collectively worked in more than 32 developing countries throughout the world.
Fifty-two years ago, President John F. Kennedy hosted a ceremony at the White House to swear in the first-ever class of Peace Corps Volunteers. While honoring that legacy, the Peace Corps takes a step forward in inaugurating the first volunteers of the Global Health Service Partnership program, one of several new and innovative Peace Corps initiatives that expand service opportunities and use 21st century tools to meet development goals.
About the Peace Corps: Since President John F. Kennedy established the Peace Corps by executive order on March 1, 1961, more than 210,000 Americans have served in 139 host countries. Today, 8,073 volunteers are working with local communities in 76 host countries in agriculture, community economic development, education, environment, health and youth in development. Peace Corps volunteers must be U.S. citizens and at least 18 years of age. Peace Corps service is a 27-month commitment and the agency's mission is to promote world peace and friendship and a better understanding between Americans and people of other countries. Visit www.peacecorps.gov for more information.
About PEPFAR: The U.S. President's Emergency Plan for AIDS Relief (PEPFAR) is the U.S. Government initiative to help save the lives of people affected by HIV/AIDS around the world. PEPFAR is the largest commitment by any nation to combat a single disease internationally and PEPFAR investments also provide a platform for efforts to address other public health needs. PEPFAR is driven by a shared responsibility among donor and partner nations and others to make smart investments to save lives. For more information, visit www.pepfar.gov.
About Seed Global Health: Seed Global Health is a non-profit whose mission is to strengthen health systems globally by partnering US physicians and nurses with local educators. Seed Global Health believes educational partnerships can rapidly increase the pool of providers and educators in countries where they are most needed. Committed to recruiting the best-qualified candidates, including those who may have financial constraints to service, Seed Global Health raises and disburses loan repayment and other appropriate stipends of support to individuals chosen for assignments abroad. Visit www.seedglobalhealth.org for more information.
###
# # #
---