FOR IMMEDIATE RELEASE:
Thursday, June 17, 2010
Fathers Inspire the Next Generation of Peace Corps Volunteers
WASHINGTON, D.C., June 17, 2010 In anticipation of Fathers Day, the Peace Corps is pleased to recognize those returned Peace Corps volunteer fathers who inspired their own children to serve as volunteers.
There are countless examples of multigenerational service legacies, but the following are a few examples of how fathers have encouraged their children to serve in local communities abroad with the Peace Corps.
From Oman to Sierra Leone:
Chris George served as a Peace Corps volunteer in Oman from 1977 to 1979, where he worked on archeological efforts designed to preserve the heritage of his local community. His daughter, Rosalind George, of Glastonbury, Conn., recently departed to serve as an education volunteer in Sierra Leone. Ever since I was a kid, my dad told me stories of his service in the Peace Corps and that inspired me to join, she said. I look forward to living a different kind of lifestyle, meeting new people, getting back in the classroom, and teaching in a different kind of environment.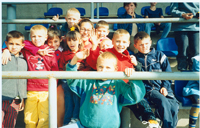 From Honduras to Bulgaria:
Kevin Mauricio Kuschel of Milwaukee, Wis., serves as a youth development volunteer in Bulgaria. I\'d like to thank my dad for being such a great person. If he was not the extraordinary man he is, I doubt I would be enjoying the experiences I already am having here in the Peace Corps, he said. Kuschels father, Kevin Michael Kuschel of Milwaukee, Wis., served as a community development volunteer in Honduras from 1981 to 1984. I am very proud to be a Peace Corps family, said the senior Kuschel. The Peace Corps changed my life forever in a very positive way. It gave me skills and a language that I have been able to share as a public school teacher. My son will change in ways neither he, nor I, can imagine. We are extremely proud of him.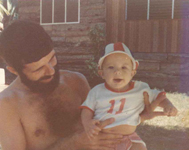 From Philippines to Vanuatu:
Michael Henrich of Alexandria, Va., is a returned volunteer who served in Vanuatu from 1999 to 2001. He was born during his parents Peace Corps service together in the Philippines. As a kid, I did [school] projects on the Philippines and would take in my parents photos from their service there, said Henrich. My dad is the number one influence in my life then and now. I didnt know it at the time, but I think I was like a sponge and that the little things my dad did like writing poetry, rustic vacations, healthy eating, and simply taking the time to relay non-preachy stories about life in the developing world were infectious and powerful.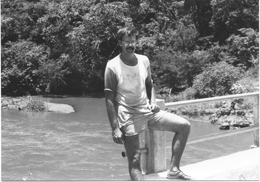 From El Salvador to Ukraine:
Returned Peace Corps volunteer Bonnie Robinson of Arlington, Va., served in Ukraine from 2002 to 2005. Her father, Jack Robinson, is a returned Peace Corps/El Salvador volunteer and served as inspiration for Bonnie to serve. He also provided support for his daughter during her service. The impact my fathers [Peace Corps] service had on his life has shaped my own perceptions of what was normal, both in terms of a global outlook and the importance of being of service to other people, said Bonnie. My dad instilled those values by example.
From Afghanistan to Thailand:
Sarah Kellogg, a Washington D.C. resident and recently returned volunteer, served in Thailand from 2007 to 2009 and was exposed to Peace Corps throughout her childhood. Her father, Bruce Kellogg, served as an English teacher at the Kabul Police Academy in Afghanistan from 1971 to 1975 and met Sarahs mother while serving. My favorite stories came from my fathers students, Sarah said. They told us stories about his English class and some still come to talk or get his advice. My father clearly had a very positive experience and, equally importantly, his students did as well. I applied to serve in Peace Corps because of my desire to have an experience that allowed me to be of use to others and build relationships with people that would still be strong more than 30 years later.
As Peace Corps approaches its 50th anniversary, its service legacy continues to promote peace and friendship around the world with 7,671 volunteers serving in 77 host countries. Historically, nearly 200,000 Americans have served with the Peace Corps to promote a better understanding between Americans and the people of 139 host countries. Peace Corps volunteers must be U.S. citizens and at least 18 years of age. Peace Corps service is a 27-month commitment.
# # #
# # #
---