FOR IMMEDIATE RELEASE:
Wednesday, September 18, 2013
English Camp Fosters Creative Thinking for Students in Albania
Washington, D.C., September 18, 2013 – Peace Corps volunteer Danielle Nesmith of Gaithersburg, Md., recently collaborated with a local Albanian English teacher and fellow Peace Corps volunteers to organize an English camp that gave students an opportunity to practice speaking the language with native speakers and develop creative thinking skills.
"There is a lack of youth activities and community involvement in my city," said Nesmith, a George Washington University graduate who has been living in Albania since 2012. "We have a very strict national education curriculum that prevents teachers from thinking creatively, so a local teacher and I decided to start an English camp that would provide youth with the possibility to think outside the box and be challenged intellectually."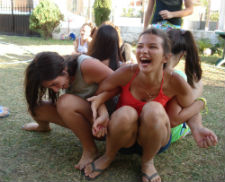 Started in 2012, the camp was the first of its kind to be held in the northwest region of Albania, and grew this year to include two sessions of more than 40 students ages 11-17.
"This year we were lucky enough to have the help of other Peace Corps volunteers," Nesmith said. "Each Peace Corps volunteer was responsible for leading their own unique session, so we were able to cover a lot of topics."
Throughout the two-day camp, students participated in English language games, debates on topics including gender roles and foreign aid, and leadership and team-building exercises. They also engaged in more traditional American camp activities like scavenger hunts and roasting marshmallows.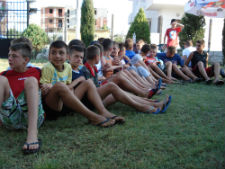 "I think my favorite part of camp was seeing the looks on the students' faces as they laugh and play and realize that learning can be fun," Nesmith said. "It's so great to see their excitement and how much they enjoy getting to know one another and having the chance to challenge themselves in a totally new way. For me, that makes it all worthwhile."
About Peace Corps/Albania: More than 525 Peace Corps volunteers have served in Albania since the program was established in 1992. Currently, 82 volunteers serve in Albania. Volunteers work in the areas of health, community and economic development, and English education. Volunteers are trained and work in the Albanian language.
About the Peace Corps: Since President John F. Kennedy established the Peace Corps by executive order on March 1, 1961, more than 210,000 Americans have served in 139 host countries. Today, 8,073 volunteers are working with local communities in 76 host countries in agriculture, community economic development, education, environment, health and youth in development. Peace Corps volunteers must be U.S. citizens and at least 18 years of age. Peace Corps service is a 27-month commitment and the agency's mission is to promote world peace and friendship and a better understanding between Americans and people of other countries. Visit www.peacecorps.gov for more information.
# # #
---