FOR IMMEDIATE RELEASE:
Monday, July 26, 2010
Eighty-five Peace Corps/Bulgaria Volunteers Sworn-in
WASHINGTON, D.C., July 26, 2010 On July 23rd, 85 Americans were sworn-in as Peace Corps/Bulgaria volunteers by U.S. Ambassador James Warlick and Bulgarian ministry representatives at the Municipal Big Hall in Vratsa, Bulgaria. The new volunteers make up the 26th group of Peace Corps Volunteers to serve in Bulgaria since the program was established in 1991.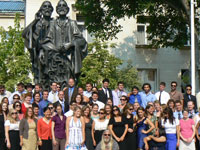 Prior to their swearing-in, the volunteers received 11 weeks of intensive training at 17 training sites surrounding Vratsa. They were trained in Bulgarian language and culture, lived with Bulgarian families, and worked on community projects.
For the next two years, these new Peace Corps volunteers will serve at the grassroots level in approximately 80 Bulgarian towns and villages. They will become part of their Bulgarian communities, work alongside local residents to create sustainable solutions, and create life-long friendships while promoting cross-cultural understanding. Some volunteers will help teach English in primary and secondary schools; others will collaborate with municipalities, social institutions, youth organizations and cultural centers to encourage partnership, creativity and skills transfer among local residents.
More than 1,156 Peace Corps volunteers have served in Bulgaria since the program was established in 1991. Volunteers in this Balkan nation work in the areas of education, youth development, and community development. Since Bulgarias entry into the European Union in 2007, Peace Corps has refocused its efforts to provide support to underserved communities in rural areas. Over 150 Peace Corps volunteers are currently serving in Bulgaria.
As Peace Corps approaches its 50th anniversary, its service legacy continues to promote peace and friendship around the world, with 7,671 volunteers serving in 77 host countries. Historically, nearly 200,000 Americans have served with the Peace Corps to promote a better understanding between Americans and the people of 139 host countries. Peace Corps volunteers must be U.S. citizens and at least 18 years of age. Peace Corps service is a 27-month commitment.
# # #
# # #
---