FOR IMMEDIATE RELEASE:
Monday, July 27, 2009
Chicago Resident Creates Computer and Language Lab in Armenia
Students Publish the Only Newspaper Available in the Community
Washington. D.C., July 27, 2009 Peace Corps Volunteer Constance Speake of Chicago, Illinois, spent 45 years teaching American students about music. Now, Speake is using her classroom experience to help college students in a remote Armenian town improve their computer skills. Through a Computer and Language Lab Partnership Project, Speake and her colleagues have introduced computer literacy to more than 600 students and community members.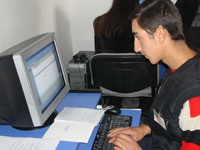 Staff at the state college initially developed the idea in response to a Ministry of Education mandate requiring all students in Armenia to become computer literate. A shortage of computers and computer instructors in the country made this a daunting challenge for the isolated town. However, the staff was certain that providing computers and diligently training local teachers in computer literacy would be a step toward meeting the mandateand opening their students eyes to a world beyond the towns borders.
With these goals in mind, Speake and her community used the Peace Corps Partnership Program to successfully fund and open a computer lab at the college, transforming an old classroom into a brand new lab. The lab is now home to six computers, headsets, microphones, an interactive English learning program, an internet connection, and Microsoft software that has enabled college students to author, edit and produce the only newspaper available to the community.
We expected student enthusiasm, but not the overwhelming desire from students to learn or demonstrate what they knew, said Speake. We were inundated at first with students wanting to use the computers, and we needed more supervisors to keep the lab open all day.
Students are incorporating their newly-learned computer skills into all areas of their education. Students in food-related majors, for example, use clip art to create customized recipe books, and business students use spreadsheets to enhance their productivity. Other students write and edit articles on the computers for the college newspaper, and many have used their skills to write application essays for graduate school programs or jobs.
This project was funded through the Peace Corps Partnership Program, which allows individuals or groups to donate funds to specific Peace Corps projects. The Partnership Program works to create true partnerships with the communities it serves. In order to receive funding through the program, a community must make a 25% contribution to the total project cost, as well as outline success indicators for the project. This helps to ensure community buy-in and project sustainability.
One-hundred percent of each tax-deductible donation goes toward a development project. In-kind contributions, such as computers and school supplies, can also provide valuable support. To learn more about the Partnership Program or to see other projects currently in need of funds, visit
www.peacecorps.gov/contribute
.
# # #
# # #
---